Best Bidet Toilet Seats in May 2022 (Top 5) – Reviews and Buyer's Guide
[vc_row][vc_column width="2/3″][vc_column_text]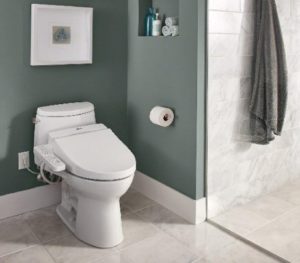 Last Updated:
Many toilets these days do not actually have
toilet seats
on them. I bet you didn't know that!
One reason for this is the extra cost of including it with every toilet. The other reason is that not every seat matches with every bathroom. I know it's weird to think that it has to match a bathroom, but you should take your seat selection very seriously.
Toilet seats do get changed a lot more often, too. So you will likely need to replace yours much sooner than you need to replace your toilet bowl.
Anyway, here are my selections for the best bidet toilet seats on the market.
[/vc_column_text][/vc_column][vc_column width="1/3″][vc_column_text]
Bidet Toilet Seats Comparison Table and Ratings
[/vc_column_text][/vc_column][/vc_row] [vc_row][vc_column][vc_column_text]
Bidet Toilet Seat Reviews in 2022
We've managed to assemble some very promising options and here's our picks for the Best Bidet Toilet Seats.
[/vc_column_text][/vc_column][/vc_row] [vc_row][vc_column width="2/3″][vc_column_text]
1. TOTO C100 Washlet – Editor's Choice and Best Bidet Toilet Seat 2022
Toto actually created the bidet seat, and named it the "Washlet". Unfortunately, not all manufacturers use this terminology, which can make things very confusing.
Anyway, you can change the temperature, which is one of the must have features in a bidet. I also like the heated seat for winter use. It does have two nozzles that spray water. However, the control panel is on the right-hand side of the toilet, and that can make it difficult if you have some type of movement problem with your arm.
Unlike many other models, this Washlet by Toto has no remote, only the buttons installed into the side panel. To be true, it is quetionable solution. On the one hand, probably, you don't need the wireless remote because you won't operate the unit while you're away from it. You won't lose the remote or have low battery in it. The control panel is always there when you need it. On the other hand, some people can have difficulties reaching the buttons.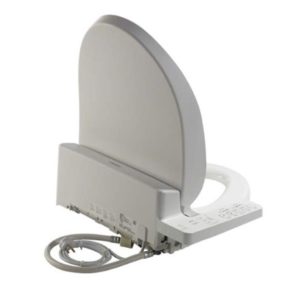 As for installation, that's easy. You can install this toilet seat in under an hour. And you can probably do it much faster than that.
The Bottom Line
This is a top-notch unit for those who value comfort and utility. This model has all the premium features a modern bidet seat has to have, including adjustable modes of washing and drying, deodorizing, heating, etc. Moreover, the unit is incredibly easy to maintain due to its advanced self-cleaning and waste-preventing functionality.
[/vc_column_text][/vc_column][vc_column width="1/3″][vc_column_text]
Pros
Premium design and materials.
Adjustable water and air dryer temperature.
Rear and front nozzles for comfort use.
Deodorizing and air filtration feature for eliminating odor.
Heated seat.
Cons
Kind of expensive among others.
Click to Check the Price
[/vc_column_text][vc_separator border_width="2″ el_width="70″][/vc_column][/vc_row] [vc_row][vc_column width="2/3″][vc_column_text]
The newest version of the S900 is exactly what you'd expect from an S900 series bidet seat – quality. I like that you can literally install it in under an hour.
The two nozzles that spray water are controlled by a wireless controller, so it's convenient if you have any type of movement problem, or if you just don't want to move.
The controller allows you to change the direction, pressure, and temperature of the water, which is super convenient if you have any mobility issues. Of course, it only works if someone is sitting on the seat, so you don't have to worry about accidentally flooding your bathroom.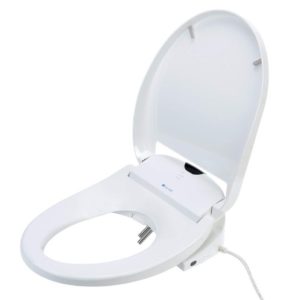 I also like that the seat is heated with a no-slam lid. Plus, it's easy to clean thanks to the quick release feature.
The Bottom Line
This unit is a great option for round bowls. It has a remote with multiple modes of watering and air drying – everyone will find the one for his or her needs. Overall, it is nice hi-hech device available for DIY installation. Absolutely recommended.[/vc_column_text][/vc_column][vc_column width="1/3″][vc_column_text]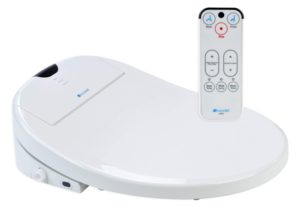 Pros
Ergonomic seat.
Convenient remote.
Comes in frustration-free package with all installation details.
Self-cleaning stainless steel nozzles.
Automatic energy saving Eco-mode.
Cons
Click to Check the Price
[/vc_column_text][vc_separator border_width="2″ el_width="70″][/vc_column][/vc_row] [vc_row][vc_column width="2/3″][vc_column_text]
The SB-100 is another bidet seat full of features, and it doesn't cost very much. The nozzles are self-cleaning, so that will save you some time. I also like that they oscillate and can be set to clean male or female body parts. All this is controlled by a wireless remote, which is convenient.
It's really thorough, too. You have five water pressure levels, three preset temperatures, and five different nozzle positions to choose from. That is a lot of adjustability. You definitely won't be dirty after using this bidet.
The SB-1000 even has an air dryer, so you won't need toilet paper. That air dryer also has five different temperature settings. The bidet also has an energy saving mode (for when not in use) and a no-slam lid.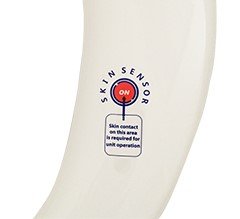 This bidet seat really takes it to the next level. I highly recommend it.
The Bottom Line
The product is worth its name. This SmartBidet has a ton of intellectual features like skin sensor allowing the unit to "know" when to perform. This means, you can't flood the house if accidentally press the remote buttons. It won't work invain. Brilliant![/vc_column_text][/vc_column][vc_column width="1/3″][vc_column_text]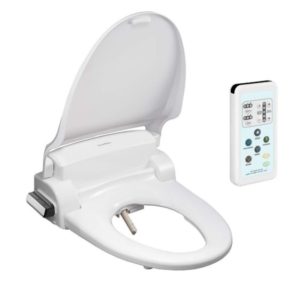 Pros
Smart self-cleaning system.
Multiple water adjustments.
5 levels of warm air dryer reduce use of toilet paper.
Easy installation.
Soft & quiet closing of lid and seat.
Cons
Some find many features useless.
Click to Check the Price
[/vc_column_text][vc_separator border_width="2″ el_width="70″][/vc_column][/vc_row] [vc_row][vc_column width="2/3″][vc_column_text]
This GenieBidet toilet seat has a design suitable for elongated toilet models only. It doesn't require wiring, thus is easy to set up even for those without relevant experience. In most cases, the installation takes from 20 to 45 minutes. The bidet seat comes with advanced hybrid T-connector with pressure control, so you'll have all necessary details to set up and start using the GenieBidet right away.
What do you get in this product? First, the bidet has two nozzles for rear and front (feminine) washing, which is really convenient. Both nozzles are self-cleaning, and I find it amazing, because no one likes to clean the toilet. Second, this is the non-electric bidet seat, that means it's safe and doesn't affect your electricity bills. Just a little bit of enegry-saving.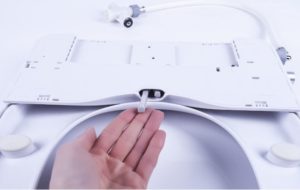 I like that despite lack of remote, the spray can be adjusted to preferrable mode from soft to strong. This product is definitely the best non-electric one for the money. There are models for round toilets and heated electric ones, by the way. You can't go wrong with GenieBidet.
The Bottom Line
This GenieBidet is my pick out of non-electric models. It has all the convenience and quality this type of unit can offer. The seat doesn't require electric wires when setting up. The whole installation is quick and simple, in case you consider the type of your toilet before buying. If you're fond of basic bidet functionality, this is your choice.[/vc_column_text][/vc_column][vc_column width="1/3″][vc_column_text]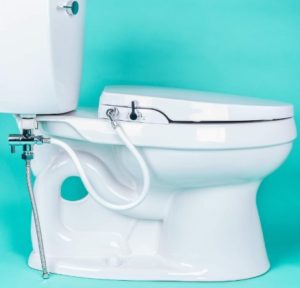 Pros
No wires or outlets required.
Dual nozzles (rear & feminine) allow to be retracted.
Hybrid T-connector included.
Soft close feature.
Domestic customer support.
Cons
No advanced features like heated seat or skin sensor.
Click to Check the Price
[/vc_column_text][vc_separator border_width="2″ el_width="70″][/vc_column][/vc_row] [vc_row][vc_column width="2/3″][vc_column_text]
As the title implies, the Aqua Wash earned its name because the plain-looking seat is equipped with detachable nozzles. The seat comes off with a one-button feature, which makes cleaning a breeze. Other than easy clean feature, this product performs perfect bidet function without using electricity. You don't have to install any wires due to it.
This seat has adjustable modes of washing. Besides, with its nozzles removed, it can act as a standard elongated toilet seat. It's also made of plastic that has a special finish that prevents mildew, stains, mold, and odors from forming.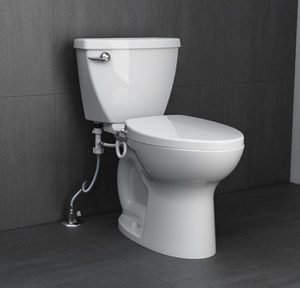 Most importantly, you can wipe this lid clean with nothing more than a wet rag. It's very convenient. I recommend it if you hate cleaning your toilet seat or don't want to use nasty smelling chemicals to clean your seat. It has basic bidet functionality and nice look, though.
The Bottom Line
This is my choice for the money. The classic unit with a little improvement looks just like your standard seat. It has soft closing mechanism and sleeck design, which are great apart from the washing function. The seat has a great option for removing it with one button – this is very handy for keeping it clean.[/vc_column_text][/vc_column][vc_column width="1/3″][vc_column_text]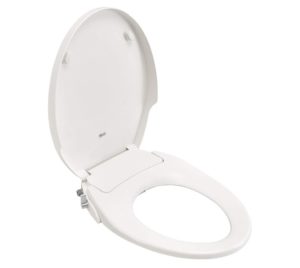 Pros
Durable material and seamless design of the lid.
Adjustable spray patterns without electric power.
Full installation kit.
Lift-off with one-push button helps with cleaning.
Its top mount installation fits majority of common toilets with.
Cons
Only basic bidet feature.
Click to Check the Price
[/vc_column_text][vc_separator border_width="2″ el_width="70″][/vc_column][/vc_row] [vc_row][vc_column width="2/3″][vc_separator border_width="2″ el_width="70″][vc_column_text]
Bidet Toilet Seat Buying Guide
Features To Look For
You should consider a few factors before purchasing a bidet toilet seat.
First, you should make sure that the product has the same distance between the mounting holes as your toilet. On rare occasions this distance may be different, so it's worth it to check. You should also make sure that you purchase an elongated seat if you have an elongated bowl.
Anyway, here are some of the important features to look for in a bidet toilet seat:
Material
You should take note of the material. Most seats are made from plastic. Some of the plastic ones may have a wood finish, which is fine. Just know that you will have to clean this a little differently than a normal plastic seat. It will also not last as long as a plastic or wood one.
Speaking of that, you can purchase a wood toilet seat. These will either be wood with a laminate finish or treated wood. Solid wood units are fairly expensive and fancy, so you don't see them that often. They are nice, though.
I don't recommend laminated toilet accessories if possible. They just don't last nearly as long because of the humidity in the bathroom.
No-Slam Lids
As the name implies, a no-slam toilet lid does not slam shut when dropped. They are also referred to as a soft-close lid. These toilet lids tend to cost a little more money, but they are very convenient. Simply tip the lid, and it will quietly close.
I recommend this type of seat if you like having a closed toilet at all hours. The other benefit is you don't have to listen to a slamming lid at night.
Coated Plastic
Some plastic seats have a coating that prevents staining, odor, and other gross stuff you find on a toilet. The treatment also makes cleaning as simple as brushing it with a damp rag. You don't need to use commercial cleaners, bleach, or anything like that.
I recommend these types of seats, but you will pay a little extra money for them.
Air Dryer
An air dryer is one of those features that has started appearing on newer bidets. Personally, I like the air dryer, but many people find them very unsanitary. It is one of those features that costs a bit extra money.
The good thing about an air dryer is that you don't have to use it. For instance, one person can use the dryer while another person doesn't use it.
I highly recommend purchasing a bidet with an air dryer.
Bonus Features
You generally want a bidet that has a heated seat if you live in a colder climate. Trust me, you don't want to sit on a toilet seat that feels like an ice cube.
A bidirectional nozzle is also a feature you want. It allows you to spray water from multiple angles, which just makes cleaning so much easier. All the units I listed have a bidirectional nozzle. Other nice features include an easy-to-use control panel and heated water.
Fortunately, most of these extra features come standard on an electric bidet.
Regular Toilet Seat vs. Bidet Toilet Seat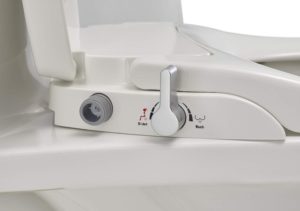 A bidet used to actually be an extra part of the bathroom. Basically, it was a washbasin. This all changed when Toto released the Washlet, which is a spray nozzle that goes under the seat. This allowed everyone to have a bidet in their home.
Despite this, the bidet toilet seat is still not popular in the United States, but it is popular in parts of Europe and most of Asia. In fact, many bathrooms in Japan only have bidet seats. You will definitely have to use this unit if you visit Japan.
Unfortunately, many people that have never used one consider them gross. They may even think they are a little gross. This all changes once you use them, though. Most bidet users absolutely love them after the first few uses.
If you have any type of disability that affects your mobility, then you will love the bidet. It will mean you don't have to depend on people for a very personal task. It's also more hygienic.
How to Install a Bidet Seat
Installing a bidet toilet seat is not a difficult project. You can probably do it yourself in under an hour or faster.
The only potential problem is having nearby access to a power outlet. However, not all units require electricity, so this problem may not even arise during your installation. You may also have an outlet near your toilet.
Well that said, here are the general steps for installing a bidet seat. Some bidets may require a slightly different installation, but the general concept will remain the same.
Step 1: Take off your old seat.
Step 2: Shutoff the water line to your toilet.
Step 3: Install the mounting plate to the toilet.
Step 4: Remove the water hose at the bottom of the tank. This is why you must shut off the water supply before beginning.
Step 5: Connect a 'Y' or 'T' connector to the hose. This connector should come included with the product.
Step 6: Install the bidet seat on the mounting plate.
Step 7: Plug the bidet into the outlet (if necessary).
Step 8: Turn on the water.
Using a Bidet Toilet Seat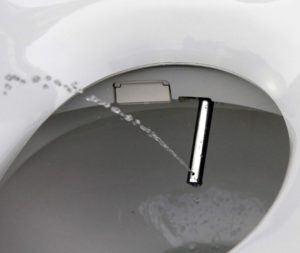 Using is simple. Simply sit on the seat, adjust the controls (temperature, pressure, direction), and begin cleaning yourself. Some people like to face the faucet (sitting backwards), but it's much easier to aim the sprayer if your back is facing the sprayer. The direction you sit mostly comes down to personal choice.
If you live in a cold climate, and don't like sitting on your seat, then you should purchase a bidet with heating and a remote control. You can control the temperature of the surface, even when you're not at your house.
You should also use toilet paper to dry yourself after using the bidet. This, of course, isn't necessary. However, drying yourself after use just makes sense.
Cleaning a Bidet Toilet Seat
Everyone hates cleaning their toilet. It's gross and annoying, but it is something that you should do every week. Don't worry, you can save money by using normal bleach. It doesn't even have to smell bad since many companies produce bleach that actually smells great.
Anyway, you will need some cleaning product, a measuring cup, and a brush. Just don't use the measuring cup for cooking!
First, you should spray water all over the surface you want to clean. Next, dump about ¼ cup of bleach into the basin. Try not to spill any on the edge or floor. If you do, then clean it up to prevent staining.
You should now scrub the basin with a toilet brush. Make sure to scrub the area underneath the rim – it's normally gross and hard to reach. Don't use bleach to clean the nozzle. You don't want traces of bleach spraying into your private parts. That would hurt.
Scrubbing should only take a few minutes. Once you're done with that you should spray water until the bleach is completely diluted. Give the toilet brush a rinse, too.
If you have any stains, then let them soak in bleach for four to six hours. Then try scrubbing them out. The stains still may not come out. In that case, just let them soak for an even longer amount of time.
Summary
This article has covered everything that you need to know about bidet toilet seats. Everything from how to install them, using them, and some history about them. I even recommended a few of my favorite units. Also, not all the units come in white. It is a common color, but you do have a few options when it comes to the color of your bathroom accessories.
The decisions were mostly based on the features, quality, and value. Sure, some of the bidet seats may cost a decent amount of money, but those brands also had plenty to offer.
[/vc_column_text][/vc_column][vc_column width="1/3″][/vc_column][/vc_row]