Best Electric Cooktops of May 2022 (Top 7) – Reviews & Buying Guide
[vc_row][vc_column width="2/3″][vc_column_text]
Last Updated: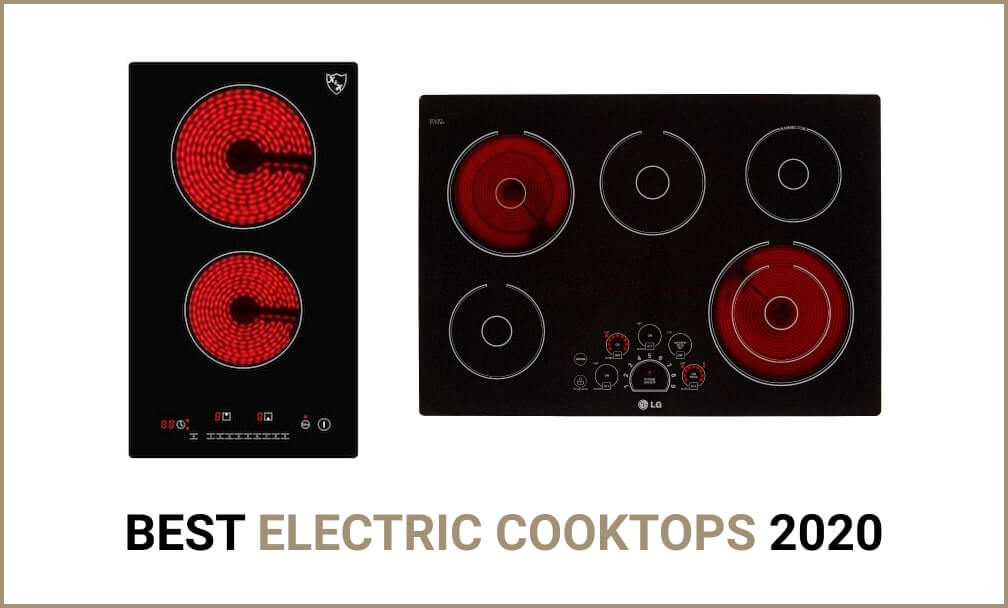 The kitchen used to have a range oven as its mainstay. Times have changed, however, and other appliances have replaced the range.
The electric cooktop is one of those appliances. They're simple to install and come in two different forms: radiant coil and induction cookers. Radiant cools tend to cost less and will function in a way you understand. They also tend to be a little faster than a standard cooktop. The same applies to an induction cooker, but an induction will be even faster.
We recommend matching your cooktop with the gas or electric wall oven. Of course, you don't need a wall oven. And many other appliances such as a toaster oven, countertop oven, or halogen oven will serve as an excellent alternative to a wall oven.
[/vc_column_text][/vc_column][vc_column width="1/3″][vc_column_text]
The Different Types of Built-in Counter Cooktops
Electric Cooktops
Electric cooktops come in two varieties:
Electric coils and ceramic smooth tops that have radiant ribbon coils or an electromagnetic induction cooker.
Gas Cooktops
A gas cooktop will usually cost less than an electric cooktop. However, a gas cooktop will have a higher installation cost (up to $1000). You still need a 120V outlet for the ignition and a gas pipeline in your home. Of course, you can still use a tank with a gas cooktop, but you will have to make sure you always have a gas tank available.
Induction vs Electric Coil
Here is a comparison between induction cooktops and electric coil cooktops.
Heating Differences
The main difference between induction and electric cooktops is the heating. A radiant electric coil will take longer to get hot enough to cook and will take much longer to get to a safe temperature. You should also expect more residual heat.
However, a radiant electric coil is still faster than the standard open coil. Induction cooktops, on the other hand, will heat extremely fast. But they are only compatible with certain cookware.
Installation and Price
The installation process and price of an electric coil cooktop and induction cooktop is the same because the electrical requirements are the same. You can expect to pay around $800 for installation not including the price of cabinets.
Cabinets can get quite expensive and vary widely in price.
Similarities Between The Two
Both cooktop styles usually have an indicator that shows a hot surface with control locks. A few induction cookers will even have a simulated flame, but that is a rare feature.
The other similarity is that since they are both electric cooktops; they will both require the same hardwiring. This is actually an advantage if going from induction to coils or vice versa.
Cookware
Contrary to popular belief, a radiant smoothtop cooker will have some restrictions on the type of cookware recommended for use. These restrictions are generally for stoneware, glassware, and heavy cast iron as it can easily leave scratches on the surface.
Induction compatible cookware requires a magnetic bottom to work on the cooktop. We still recommend cookware made specifically for induction cooktops because certain magnetic cookware can scratch the cooktop.
Portable Cooktops and Two Burner Electric Cooktops
Electric stovetops come in portable and built-in options with either one burner or two burners if portable. They will have 4-5 burners if built-in, but small ones do exist. If it's a built-in appliance, then it usually must be connected to a 220V connector via a hardwire.
A portable burner can come in any form. A solid plate, induction, or infrared appears to be the most popular, but all types are available.
Downdraft on an Electric Cooker?
A handful of cooktops have a downdraft extractor built into them. Expect to pay a little more for one, though. If it doesn't come with a downdraft extractor, then it's easy enough to mount on your counter behind the stovetop.
The ventilation systems have ducts that will vent outdoors. These systems aren't the best because they do push hot air down when it wants to rise. However, they still do a better job than not having any ventilation system on your cooktop.
Now, if that doesn't do it for you, then you can always purchase a range hood separately. Range hoods are nice because hot air flows up, so they tend to be very efficient.
[/vc_column_text][/vc_column][vc_column width="1/3″][/vc_column][/vc_row] [vc_row][vc_column width="2/3″][vc_column_text]
Best Electric Cooktop – Buying Guide
Space and Size
Aesthetics
Maximum and Minimum Heat Ratings
Bonus Features
Space and Size
Two questions come to mind in regards to space and size in regards to cooktops. How big is your kitchen area? And how much cooking do you do?
Built-in electric cooktops come in 30" and 36" with four and sometimes even five hotplates. Of course, more plates doesn't mean you can cook five dishes at the same time – that'd be a little cramped, especially on a 30" cooktop. You will have more space to use everything, however, if you have a 36" cooktop.
Aesthetics
What type of cooktop do you want: one that blends in with the rest of the kitchen or one that makes a bold statement?
Controls that use a digital display tend to look more modern, minimalist, and sleek. On the other hand, knobs on your cooktop will make a statement and fit a vintage home.
Where do you want the cooktop controls: side or front?
Side controls and front controls are easy to adjust by accident. Plus, it sets the cookware further away from you on the stovetop. Don't misunderstand us, side controls are nice, but it makes sliding cookware onto the countertop a little more difficult.
Those are just some of the questions you have to ask yourself before purchasing a cooktop for your kitchen. There are obviously more. Those simply cover the basics.
Maximum and Minimum Heat Ratings
Make sure to check the minimum and maximum heat on the burners and compare it to what you need.
If you plan on poaching eggs or melting chocolate, then you will need some low heat? Alternatively, if you need fast boiling, then you need to look at a burner with a higher maximum temperature or a power bonus.
Bonus Features
A few different cooktops include various features like the ability to merge or sync elements. This helps when it comes time to cook large dishes like a casserole or use a griddle.
Some other features to look for include locks on the controls and an automatic shutoff to prevent fires. Obviously, you do not want a glass cooktop that does not have an indicator for hot surfaces – that's just dangerous.
[/vc_column_text][/vc_column][vc_column width="1/3″][/vc_column][/vc_row] [vc_row][vc_column width="2/3″][vc_column_text]
Best Electric Cooktops of 2022 – Reviews
We have selected a variety of electric cooktops that include digital controls, manual controls, basic cooktops, a cooktop that has a downdraft extractor, and a luxurious electric cooktop.
In other words, we've included all the electric cooktops that you could possibly want in this list. You shouldn't need to go anywhere else if you're searching for an electric cooktop.
Here are our top picks for the best electric cooktop in 2022:
[/vc_column_text][/vc_column][vc_column width="1/3″][/vc_column][/vc_row] [vc_row][vc_column width="2/3″][vc_column_text]
We like the Frigidaire electric cooktop because it's a soldily designed cooktop with plenty of space. Not many extras are included on this cooktop, but it does have a decent price for the performance and quality it provides.
Design and Layout
First, this cooktop is 30", but you wouldn't know it because it has a very efficient layout. We do like the side controls on the right because it gives the surface that you cook on a little extra depth.
Next, it has two separate 9" plates with 2500W of power and two 6" plates with 1200W of power. This flexibility in power and size gives you lots of options when it comes to meal prep and allows you to avoid the cramped spacing.
At a price this low, you shouldn't expect any elements that expand, plates that merge, or a melting element. You have to go up in price a little bit before you can see those features.
Maintenance
The appearance of the cooktop is amazing. It can be a little difficult to make sure the glass always looks smooth, though. We recommend using the proper tools and cleaners. One more thing to note, you must completely take the knobs off to clean the cooktop. Be careful because the knobs are a little sharp on the edges!
Installation
You should be fine if you are simply updating your old 30" cooktop. However, you should ensure that the cut out matches the cooktop or if widening is required.
You will also need a 220V/30A connection to be hardwired to the wall, which isn't difficult, but may require the help of an electrician.
Finally, if you have a granite counter, then an installation package is included with the purchase to make things easier to install.
Final Words
All things considered, the Frigidaire cooktop isn't bad. Sure, it doesn't have all the fancy features that a lot of the more expensive cooktops have, but do you really need those?
Most people don't. This cooktop only has the essentials that you need in a cooktop.
Click to Check the Price
[/vc_column_text][/vc_column][vc_column width="1/3″][vc_column_text]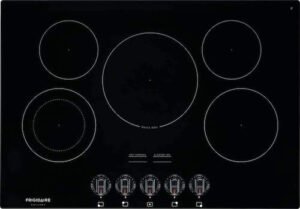 Positives
Two 9" burners
The layout has plenty of space
There is an indicator for hot surfaces
Installation kit for granite countertops is included
Negatives
The edges of the knobs are a little sharp
The elements do not expand
[/vc_column_text][vc_separator border_width="2″ el_width="70″][/vc_column][/vc_row] [vc_row][vc_column width="2/3″][vc_column_text][vc_separator border_width="2″ el_width="70″]
Looking for a good electric cooktop that won't cost you an arm and a leg?
The K&H 2 burner radiant cooktop is the cooktop for you – it doesn't have many features, but that's expected at this price. Here's our review and some things we like and don't like about this cooktop.
The plate at the back is 7" and has 1800W of power. The front plate is smaller at 6" and goes up to 1200W of power, which makes this perfect for those basic cooking needs like making eggs or burgers.
We really like that this has 9 separate power settings for maximum temperature control. It's actually a little surprising that it has that many power settings, a lock on the controls, protection against overheating, and a hot top indicator light that covers both hot zones. On top of that, it has digital controls and two separate timers that go up to 99 minutes AND an automatic shutdown on each plate.
Most reviewers seem fairly content with the speed of the burners, the price, and the durability of the cooktop. We only noticed one minor problem – the hot zones don't have that much space between them. It's a somewhat normal problem for a cooktop with only two burners, so we can't complain too much about it.
One thing to note that isn't good or bad is that this burner requires a 240V connection and a 16A breaker. You also must hardwire this, which is a tad annoying. Fortunately, it's not too difficult to hardwire a cooker.
Final Words
Overall, we like this for what it is – an affordable, high-quality two burner cooktop for a smaller kitchen or home. You simply won't find something better than the H&R at this price point.
If you live in a smaller space, then this is certainly the cooktop for you.
Click to Check the Price
[/vc_column_text][/vc_column][vc_column width="1/3″][vc_column_text]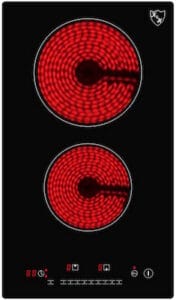 Positives
It can heat up extremely fast
It comes with 9 different settings for the power
It has indicators for both hot plates
Cook timers are included for heating zones
It has a lock for the controls
No overheating because of the overheating protection
Negatives
It's not comfortable when cooking multiple dishes because the plates aren't spaced far enough apart
[/vc_column_text][vc_separator border_width="2″ el_width="70″][/vc_column][/vc_row] [vc_row][vc_column width="2/3″][vc_column_text][vc_separator border_width="2″ el_width="70″]
Do you want an electric cooktop with a downdraft?
Look no further than the GE 30" smoothtop. This cooktop has three different power settings for the extractor alone. In addition to that, it comes with two elements that can merge together to accommodate large dishes such as a griddle pan.
Design and Layout
We like that GE put the vent for the extractor in the center of the cooktop. The controls are in the center underneath that vent, which makes them easy to access and frees up the side of the cooktop to make sliding pots and pans off the side very simple.
Next, GE designed this well and added some features that make it rather easy to use. For instance, the elements on the left-hand side are 7" plates with 1800W of power, which makes them excellent for simmering, boiling, braising, and frying. The best part is that this has a bridge that allows you to combine with the surface with circular cookware or a griddle.
The back right element is 6", which is perfect for pots that are a little smaller and has a melting setting for chocolate or poached eggs.
Finally, the element at the front right is 6"-9" and perfect for larger cookware or braising pans. It can even boil water quickly because it has 3000W of power.
Installation
This requires the usual 240V/40A hardwire connection AND the downdraft exhaust must exit your house through a duct. You should never duct this into an attic or between a wall – that's a fire waiting to happen.
We recommend a professional installation for the duct part of installation because it's a little complicated.
Maintenance
Unfortunately, this cooktop does not include a cleaning kit, which means you must purchase it yourself. Thankfully, vinegar does work for some stains and the knobs are easy to remove and dishwasher safe. If you lose a knob, then it's simple enough to purchase one from the manufacturer.
Final Words
As we wrote earlier, a downdraft stove top will cost you a little extra money. GE somehow made this downdraft cooktop affordable while still providing some flexibility and enough features to make it useful. We also like the extractor on this as it isn't too loud, which is a common problem with extractors at this price point.
Click to Check the Price
[/vc_column_text][/vc_column][vc_column width="1/3″][vc_column_text]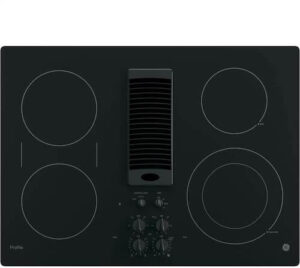 Positives
Downdraft has three power levels
The layout is extremely intuitive
The plates can merge to accommodate large cookware
It has a melt feature for chocolate or poached eggs
It has a rapid boil feature
The controls have locks on them
Negatives
The installation is a little difficult
[/vc_column_text][vc_separator border_width="2″ el_width="70″][/vc_column][/vc_row] [vc_row][vc_column width="2/3″][vc_column_text][vc_separator border_width="2″ el_width="70″]
The GE Profile has everything you would expect from a radiant smoothtop – that includes different sized heat zones, syncing elements, a two-sided heating element, an element that can rapidly boil water, a melt function, and a keep warm function.
It really does have it all.
Design and Layout
The features on this cooktop are nice – there is no denying that. However, you do have to be fairly comfortable using a layout with the knobs on the front. It will take some time to adjust, but you will adjust to it eventually.
The backlit knobs were a nice touch. However, the arcs do take up valuable space when the surface is only 30". It's especially problematic when using bigger cookware.
Now, that knob on the center is nothing more than a lock for the control panel, but we think it should have been a button that you touch. Also, be careful if using the center zone while using another zone – the handle of your pot might get hot because it will hang over the heat element.
That element on the top left is 7" and it's the one with the aforementioned stay warm capability. It even will connect with the zone below it, but it doesn't merge. The lack of merging means you have a small space that gets uneven heat. Fortunately, a griddle still works. The left-hand side elements both have 1500W of power.
If you need low heat, then the 6" zone on the right hand side in the corner is the one to use. All the low heat burners are the back ones because low heat requires less attention from you, which is a convenient layout.
Finally, the element nearest to you on the right-hand side adjusts all the way from 4.5" to 7.9" and has a whopping 2200W of power.
That's more than enough power for all your high heat cooking.
Maintenance
Maintenance is fairly simple on this cooktop. However, there are some things to keep in mind.
First, you shouldn't not use ceramic or glass cookware on this cooktop – that's how you scratch the surface. Even something like porcelain can easily melt on the surface if it get hot enough.
Finally, cleaning those arcs is annoying. We recommend using a soft bristle brush and trying to get around them. Just make sure to use a cleaner approved for glass cooktops because you really don't want to damage the glass on this.
Installation?
This cooktop should fit if you already have a 30" cutout. If you have a larger cutout, then you can purchase a filler kit from GE directly. As usual, this requires a 240V/40A hardwired connection.
Final Words
We like the features, design, and specs on the cooktop. It's an especially nice cooktop for someone that does a lot of cooking. But it will take a little time to adjust to using the knobs and the tighter spacing because it is a little cramped due to it being a 30" cooktop.
Click to Check the Price
[/vc_column_text][/vc_column][vc_column width="1/3″][vc_column_text]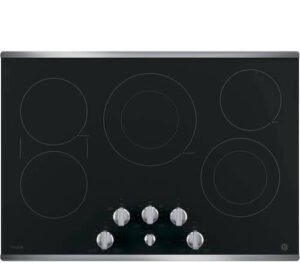 Positives
The controls have a red backlight
The controls are lockable
It has a rapid boil setting
It can melt and keep warm
2x sync elements
Negatives
Kind of small with all the heat zones
[/vc_column_text][vc_separator border_width="2″ el_width="70″][/vc_column][/vc_row] [vc_row][vc_column width="2/3″][vc_column_text][vc_separator border_width="2″ el_width="70″]
5. Cusimax Portable – Best Portable Hot Plate (Infrared)
Looking for a portable hot plate that uses infrared? Perhaps you are scared off the EMF radiation?
Hey, we can't blame you – scientists are still out on whether EMF radiation is harmful. Cusimax has you covered with their infrared hot plate. In our opinion, this is the absolute best infrared hot plate on the market when it comes to price, reliability, and value.
Plus, it gives off no EMF radiation.
The Cusimax portable hot plates are available as a single or double burner. Each plate has a diameter of 7.2 inches. The difference between the single and the double is nothing more than the amount of power on each plate.
The double has two 900W burners. The single has one 1200W burner.
That's it for the difference.
We like that it takes about a minute to heat up. Unfortunately, it takes a little longer to cool down at about 20 minutes.
Our favorite perk, however, is that this cooktop does not use EMF waves to heat up. Instead, it uses infrared, which is perfectly safe. No risk of radiation poisoning or anything like that.
Pregnant women can use it, too.
Unlike ceramic, an infrared cooktop is compatible with most every other type of cookware.
Finally, Cusimax has a comprehensive 18 month warranty where they will send you a replacement cooktop in the event that your cooktop breaks due to a manufacturing error. Some vendors even offer a 30-day money back guarantee!
Final Words
All things considered, there isn't anything to complain in this cooktop. It's affordable, powerful, reliable, compatible with most cookware, and does not emit any EMF radiation.
There's no downside to this cooker. It's obviously portable, so it's a little underpowered. But it's portable, so that's expected.
Click to Check the Price
[/vc_column_text][/vc_column][vc_column width="1/3″][vc_column_text]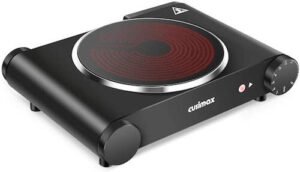 Positives
Works with the majority of cookware
Emits zero EMF radiation
It has a 1.5 year replacement warranty
Negatives
The glass top is a little slippery, so cookware can fall off of it
[/vc_column_text][vc_separator border_width="2″ el_width="70″][/vc_column][/vc_row] [vc_row][vc_column width="2/3″][vc_column_text][vc_separator border_width="2″ el_width="70″]
6. Ramblewood 30 Inch – Best Electric Cooktop with Digital Controls
Do you like the sleek design of electric cooktops?
You'll love the Ramblewood 30" electric cooktop – it's entirely digital and has a sleek, modern design.
Digital cooktops have a lot of advantages: they're easy to clean, have a sleek design, and the timers are easy to use. Of course, it's not without its disadvantages. For one, it does take a little bit to learn how to use the touch controls. You can also accidentally brush up against the controls while using the cooktop, which can mess up your cooking.
What is our favorite feature?
The booster plates – two of them to be specific. The one on the front left side has 1000W of power with a 2200W power boost. This makes it perfect for boiling or even searing meat.
Also, the burner on the back right side has a power range of 1100W to 2000W and it's expandable.
Other elements range from 1200W to 1800W in a variety of sizes, which gives you plenty of options for the type of cookware that you can use.
Finally, you have 9 distinct power options to choose from, so you have plenty of adjustability when it comes to finding the perfect temperature for your next cooking adventure.
Some other features worth mentioning include lockable controls, a 98 minute-timer that automatically shuts down, and an indicator that shows when the surface is hot.
Again, this requires a 220V connection, which will likely need to be installed by an electrician or someone that knows how to hardwire an electrical cable.
Final Words
We recommend this cooktop for anyone looking for a minimalist design that doesn't cost too much money. It has a surprising amount of features for the fairly low price.
In other words, you can't go wrong with this choice in your kitchen. Just make sure you have room in your kitchen because it's a little big at 36".
Click to Check the Price
[/vc_column_text][/vc_column][vc_column width="1/3″][vc_column_text]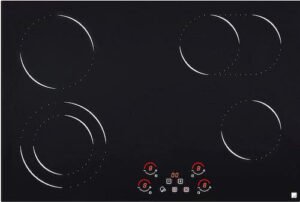 Positives
The center element is circular and can expand
It has multiple timers and automatic shutdown
Lockable controls
It has a red light that indicates a hot surface
Negatives
The controls are a little too sensitive. Not the biggest problem, but it does take some time to adjust to this
[/vc_column_text][vc_separator border_width="2″ el_width="70″][/vc_column][/vc_row] [vc_row][vc_column width="2/3″][vc_column_text][vc_separator border_width="2″ el_width="70″]
7. GE 36 Inch Smoothtop – Best 36" inch Electric Cooktop in 2021
Are you looking for a 36" smoothtop cooktop?
We understand. 30" can be a little cramped if you like to cook multiple dishes at the same time. Don't worry, GE didn't sacrifice any features with their 36" smoothtop. Here's our review of it.
Design and Layout
36" cooktops have significantly more space than a 30" cooktop. This is especially noticeable when you have a cooktop with five elements.
Do you like arced control knobs?
You'll like this cooktop – the control knobs are arced, which actually makes more sense and works better on a larger cooktop.
Our favorite part is the layout, though. It just makes sense on this cooktop. The left side actually has two heating elements on the front, and those work great for boiling and simmering. You can even adjust the rings a whopping 3" all the way from 5" up to 8". That gives you a lot of flexibility with the size of cookware that you use while cooking.
The back end of the left sie has a 1200W element that has a stay warm setting. Next to it on the left is the extremely convenient melting burner.
The front left side has the quick boil setting that also works well for sauteing or braising.
Finally, that big center element can go from 9" all the way up to 12" with a 2700W of power.
Installation and Maintenance
People sometimes have a problem with maintaining the cleanliness of the glass. As is standard with GE cooktops, you will need to hardwire a 240V/40A wire to this cooktop.
Final Words
We like the size and convenience of this cooktop. However, we are a little disappointed that none of the elements connect, which makes using a large pot or griddle impossible.
Unfortunate, but the other features make up for this one oversight on the part of GE.
Click to Check the Price
[/vc_column_text][/vc_column][vc_column width="1/3″][vc_column_text]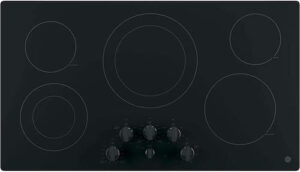 Positives
The most practical layout of any cooktop we've seen
The boil and simmer is on the front
The element is huge at 12 inches
It has a melt and stay warm feature
Both elements are adjustable
The controls have locks on them
Negatives
[/vc_column_text][vc_separator border_width="2″ el_width="70″][/vc_column][/vc_row] [vc_row][vc_column][vc_column_text]
Top-rated Electric Cooktops Comparison Table
So, what is the best electric cooktop? Compare core features below.
| Model | Cutout Dimensions | Weight | Plates | Rating | |
| --- | --- | --- | --- | --- | --- |
| Frigidaire Electric Cooktop 30" | W 29.625 in. D 20.25 in. | 38 lbs | Five: 9-inch 2 500W x 2, 6-inch 1 200W x 2 | | Check price |
| K&H 2 Burner Radiant Cooktop | W 19 in. D 10.8 in. | 10.5 lbs | Two: 7-inch 1 800W , 6-inch 1 200W | | Check price |
| GE 30" Smoothtop | D 20.625 in. W 28.875 in. | 40 lbs | Four: 2 mergeable 7-inch, 9-inch power boil, 6-inch melt element | | Check price |
| GE Profile 30" Smoothtop | W 28.5 in. D 19.625 in. | 41 lbs | Five: 2 sync elements, melt, keep warm, power boil, dual. | | Check price |
| Cusimax Portable Stove | W 11.4 in. x D 7.8 in. x H 1.9 in. | 3.5 lbs | Single burner 1 200W, Double burner 900W x 2. | | Check price |
| Ramblewood 30 Inch digital | W 27.95 in. x D 18.9 in. | 29.9 lbs | Four: two adjustable, max. 2 200W, min. 1 000W | | Check price |
| GE 36 Inch Smoothtop | W 33.875 in. x D 19.125 in. | 47 lbs | Five: 2 expandable, keep warm, melt, rapid boil, 12-inch plate | | Check price |
[/vc_column_text][/vc_column][/vc_row] [vc_row][vc_column width="2/3″][vc_column_text]
Replacing and Installing an Electric Cooktop
Pre-Installation
Ensure that your current cooktop is cool to the touch.
Once that is done, turn off the breaker to the cooktop. You don't want to shock yourself.
Related: How To Install an Electric Cooktop
Remove the box that contains the electrical connection – it should be underneath your cooktop. Make sure to either write down or take a picture of the color of the wires because they should be in the same order on your next cooktop.
Remove the wire caps. Ensure that there is no current by using an electric tester.
Removing Your Current Cooktop
Once the wires have been removed, it's easy to simply pull the cooktop up. You're going to either need help from a dolly or another person to move the cooktop because they're heavy and awkward to handle.
Prepping The Counter
Pull out a tape measurer and note the length and width. Make sure to add about one inch on both sides because the cooktop does have a lip that will hang over the edge.
Installation
Move the new cooktop into the cutout. It's secure by something called a spring clip, which you want to make sure is secured prior to placing the cooktop into the cutout. If it's not secure, then the cooktop will fall through the cutout.
Once the cooktop is secure, then it's time to connect the wires and turn the circuit to the on position.
It's not a complicated process. But the electrical work can be a little daunting to those unfamiliar with electric systems.
Final Thoughts
That covers it for cooktops. We included most of the popular options. As always, no single choice is the best option.
It all varies on what you need out of a cooktop. With that said, our top pick – the Frigidaire Electric Cooktop – is likely the best choice for anyone looking for a good all-around pick.
In terms of portable cooktops, the infrared cooktop by Cusimax is top notch.
Anyway, we hope this article cleared some of the air on your next cooktop purchase.
[/vc_column_text][/vc_column][vc_column width="1/3″][/vc_column][/vc_row]