Best Kitchen Faucets for 2022 and 2023 (Top 10) – Reviews & Buying Guide
[vc_row][vc_column width="2/3″][vc_column_text]
Last Updated: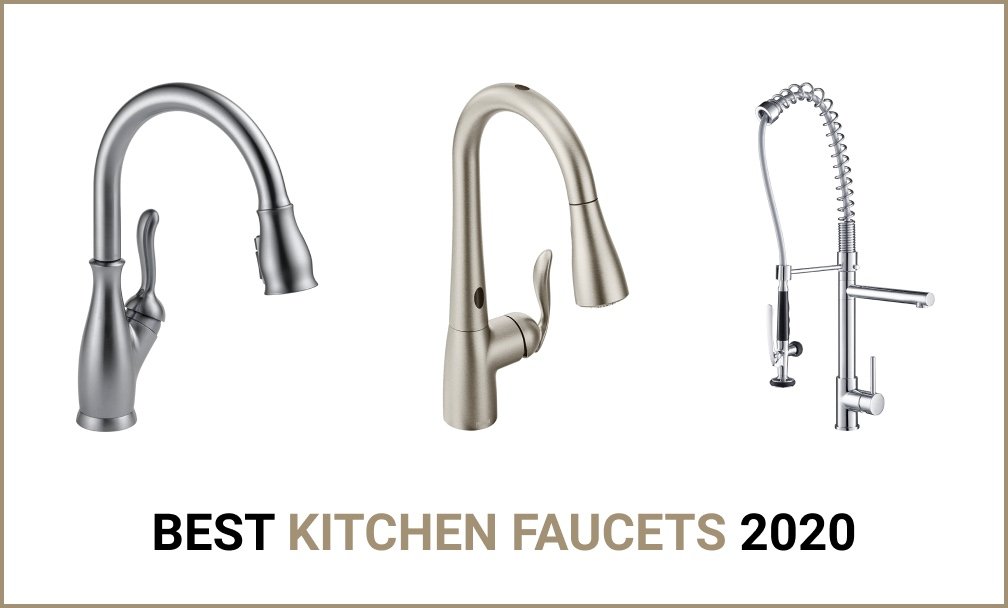 Weather you are making renovation at your home or apartment, or building a single family home of your dream – this article will help your to
choose a kitchen faucet
, a top rated one. We collected information from various sources across the web, researched hundreads of consumer reports and reviews on Amazon, The Home Depot etc. Also we had several interviews with plumbers and installers, they provided us the information about the most reliable faucet brands and models. To summarize – in this article we tried to consolidate all the data about the
best kitchen faucet
.
If you consider this guide helpful – please leave us a comment or share this article with your friends. Your feedback and support is very important.
The kitchen faucet is the most used piece of equipment in the kitchen, so having one that meets your needs is extremely important. However, choosing one can be difficult.
There are many factors to look for searching for the best kitchen faucet. This includes design, efficiency, and features. This article will give you in-depth reviews, a comparison chart, and a buyer's guide. All this will help you find the best faucet for your kitchen.
[/vc_column_text]
Related posts on Kitchen Faucets
[/vc_column][vc_column width="1/3″][vc_column_text]Written by GreatLivings on July 31, 2020
2022 Top-Rated Kitchen Faucets Comparison Table
[/vc_column_text][/vc_column][/vc_row] [vc_row][vc_column width="2/3″][vc_column_text]
Kitchen Sink Faucet Buyer's Guide in 2021
Here are some things to consider before purchasing a kitchen faucet.
Dimensions
We have included the dimensions of each faucet in our comparison chart. Height is the most important metric because the arch is the most important stylistic element. Width and depth are also important as that ensures that the faucet will fit in your sink/counter space.
Other dimensions to note are minimum clearance to backsplash, spout reach, the escutcheon size, hole size, and water supply connection size.
Material & Finish
Brass or stainless steel are the most common and best materials.
Composite is a good low budget option.
Different finish colors are also available such as stainless steel, bronze, chrome, and matte black. You definitely want a tarnish, rust, and corrosion resistant finish. Some faucets have spot resistant technology that prevents smudges, but this isn't common.
Design
Kitchen faucets come in a variety of sizes and designs. We narrowed our search to arched faucets with pull-down spray heads since they have the most design and technological advances. Plus, they generally receive the best reviews.
There are still a variety of designs available from traditional to more contemporary to ultramodern and even industrial. Faucets with a more transitional design are also available.
Our top ten kitchen faucets list represents the full range of design aesthetics. We're confident you will find one that you like.
Construction
There are a few construction aspects you should consider before purchasing a faucet. You obviously want a lead-free faucet. This generally isn't a problem since modern companies do not use lead, but still something you should know.
The construction of the faucet also impacts the flow rate. Flow rate (measured in gallons per minute) tells you how much water flows per minute. All the faucets we cover have a flow rate between 1.50 and 2.20 GPM.
You should also consider valve quality. A high-quality valve is less likely to drip. Many faucets include an extremely durable ceramic disk valve as well.
The Delta faucets on our list have a valve coated in diamonds, which prevents leaks or drips. One piece construction also prevents drips.
Spray Head Features
Automatic Return
Most people find the pull-down sprayer the most beautiful type, but they do droop over time. Make sure to choose one that has an automatic return, which means that it will not droop.
Spray Face Maintenance
Spray faces tend to get mineral buildup that requires maintenance. You can still find faucets that don't get much buildup. You can even clean some with just the touch of your fingers.
Hose & Sprayer Functionality
A long pull-down hose with a long reach is important. It's especially important if you have a deep sink. You should consider the functionality of the sprayer too. Spray settings to look for include spray, stream, and pause. The faucet will usually have button on the sprayer that makes switching modes simple.
Installation
All the faucets on our list are surface or deck mounted, which means that they are mounted on the countertop. However, you must check the number of holes your faucet works with. Most sinks have 1 or 3 holes, but some have 2 holes. They may have 4 holes on rare occasions.
An escutcheon is required if you have a multiple hole faucet. Look for a faucet that includes an escutcheon and note the hole compatibility. All this information is in our Comparison Table.
Another thing to consider are the connection lines. Flexible lines are easier to install.
A faucet that comes with lots of parts is obviously better than one that lacks parts. It makes installation easier and it saves you money. Check our step-by-step kitchen faucet installation guide.
Finally, you can hire a professional to install the faucet if you don't want to do it yourself. The manufacturer will provide you with a qualified and licensed handyman to install it for you.
Warranty
Kitchen faucets generally have excellent warranties. Our selection of faucets even include a few with a lifetime warranty from the manufacturer.
There are some rules with a limited lifetime warranty though. Some are "no questions asked" and some are only under warranty for the original purchasor. Read the fine print before making a purchase.
[/vc_column_text][/vc_column][vc_column width="1/3″][/vc_column][vc_separator border_width="2″ el_width="70″][/vc_row] [vc_row][vc_column][vc_column_text]
Kitchen Faucet Reviews from Great Livings Experts
See the greatest and decent quality kitchen faucets found by our experts, from high-end options that offer top-of-the-line features to budget alternatives that can satisfy basic needs.
So here's our top-picks for the Best-Rated Kitchen Faucet 2022.
[/vc_column_text][/vc_column][/vc_row] [vc_row][vc_column width="2/3″][vc_column_text]
Delta's Leland faucet is our top choice. It has the perfect combination of high functionality, sleek design, and affordability.The blending of styles and the escutcheon metal base are two features that we really like.
You also have the option of buying a soap dispenser or an air gap. Four color choices are available: arctic stainless, Venetian bronze, chrome, and matte black. You can match this faucet with almost any tile.
The spout can swivel 360 degrees and gives you complete access to your sink. Additionally, the spray wand has a 59" hose with a 20" reach. You can now reach those difficult to reach parts of your sink.
The faucet also has something called MagnaTite docking – a technology exclusive to Delta. An built-in magnet automatically keeps the pull-down spray wand docked when you're not using it. This protects against the drooping that usually occurs with pull-down.
The Leland has a flow rate of 1.80 gallons per minute (GPM). This makes filling pots and washing dishes a fast process.
The water shuts off after four minutes to save water because of the automatic shutoff feature. Furthermore, burning your hands won't happen due to the faucet's TempSense technology. The color indicator changes color depending on the water temperature.
The Touch-Clean Spray Holes is our favorite feature. This feature lets you clean calcium and lime build-up with the touch of your finger.
An optional feature we recommend is the Touch20 technology. You have the ability to turn your faucet on and off by touch, which helps if you have messy hands. We find this feature worth the extra cost. Plus, it looks really cool.
The 100% brass, and certified lead-free, construction of the Leland matches the excellent functionality and design. We find the construction similar to the Essa.
The InnoFlex PEX supply line (included) keeps water in the faucet. This means it cannot come in contact with any metal contaminants.
The one-piece InnoFlex PEX waterway means there are no joints or seals, which are where leaks usually form. The DIAMOND Seal Technology is another Delta exclusive feature. It uses a durable and diamond-coated valve to prevent leaks. This virtually removes the risk of leaks forming on your faucet.
The faucet life is five million uses, which is way longer than industry standard. In fact, Delta gives you a Faucet and Finish Lifetime Limited Warranty because they believe in their product.
The optional escutcheon makes the Leland compatible with a 1 hole or 3 hole deck countertop. It requires a ⅜" connection and a 2 1/2" backsplash clearance, which are both standard. However, check before purchasing.
Final Verdict
The Leland has functionality, technology, and convenience. Additionally, we like the gorgeous and traditional design. The Leland should be at the very top of your shortlist if you're looking for a durable and functional kitchen faucet from a brand you can trust.
[/vc_column_text][/vc_column][vc_column width="1/3″][vc_column_text]
Pros
Traditional design
Stylish design
MagnaTite docking prevents drooping
Spout swivels 360 degrees
DIAMOND Seal Technology prevents leaks and increases faucet life
Escutcheon included
1 hole or 3 hole mount makes installation easy
Limited lifetime warranty
Cons
Shorter faucet
Touch20 technology costs extra
Click to Check the Price
[/vc_column_text][vc_separator border_width="2″ el_width="70″][/vc_column][/vc_row] [vc_row][vc_column width="2/3″][vc_column_text]
Moen manufactures beautiful products that will last you a longtime. They have finishes that are guaranteed to last a lifetime while still providing all the functionality you would want. Moen has earned the title of #1 faucet company in North America.
This unit has MotionSense technology, which senses and adjusts to your water pressure needs. Additionally, this is a motion activated faucet. Hands-free is very convenient and requires significantly less cleaning.
Simply put, Moen has created a faucet that looks great in either traditional and contemporary kitchens. It has a clean look, but not exactly minimal.
The spout has some curve and the handle has a little flair. This combines to form a transitional design that is suitable in most kitchens. Its 26.5" x 14.8" x 4.1" dimensions create a tall arch and will add some flair. Cleaning and filling large pots is easy because of the high arch.
You have the choice of three colors: spot resistant stainless, chrome, and oil-rubbed bronze.
The faucet has a pull-down spray head with a 68 inch hose for extra maneuverability, which makes keeping your entire sink clean.
The hose easily snap back to its original position due to the reflex system, so you don't have to worry about it drooping over time.
The flow is 1.50 GPM, so you'll always have plenty of water pressure to complete anything in the kitchen. The pulldown wand has two different modes – heavy duty and delicate. This means you can wash produce and spray dishes. Just use the toggle button to switch between a steady stream and a powerful rinse for heavy-duty applications.
Another great feature is the PowerClean technology. This gives you tons of water pressure to remove those tough messes in your sink and on your dishes. Dishes get cleaned faster less water pools in your sink.
Moen uses a Duralock Quick-Connect installation system that makes installation simple by allowing water lines to be securely connected in one quick step.
The Arbor fits on a single hole mount or a three hole mount. An escutcheon comes with the faucet so you can install it with a three hole mount.
Do note, you must purchase the Adapter Service Kit if you want to use the motion sensor.
Moen stands behind their products and offers a limited lifetime warranty.
Final Verdict
There is no better choice than the Arbor with MotionSense if you're looking for the best design and the most advanced technology. It has the same features that all the other top kitchen faucets have… and it has a touchless faucet. The superior technology is certainly worth the increased price.
[/vc_column_text][/vc_column][vc_column width="1/3″][vc_column_text]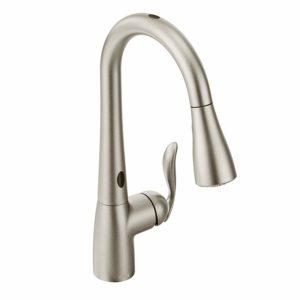 Pros
Beautiful design that works with all kitchen designs
High arch
Four available colors
Spot resistant stainless steel finish
Easy installation
68" hose
Reflex system that automatically returns hose to original position
Can install on a 1 or 3 hole mount
Cons
Click to Check the Price
[/vc_column_text][vc_separator border_width="2″ el_width="70″][/vc_column][/vc_row] [vc_row][vc_column width="2/3″][vc_column_text]
The sleek design, functionality, and affordability makes the Delta's Essa faucet a great option.
We love the elegant, sleek and simple design. Tall with a beautiful arch.The faucet fits in most kitchens.
It was designed as a soft take on European design with subtle accents. This means it will work in a transitional or contemporary kitchen.
The dimensions are 15.2 x 1.2 x 11 inches. Nothing is particularly bulky and it all flows together very nicely. Additionally, Delta has four different finishes: chrome, arctic stainless, Venetian bronze, and matte black.
Additionally, you may use the included escutcheon or you may install it directly on the counter if you prefer the minimalist look.
Functionally, the Essa is topnotch and ADA compliant. You can turn the spout 360 degrees for access to your entire sink. The 62" hose has a very long 20" reach.
The faucet also has MagnaTite Docking. A strong magnet keeps the spray wand in place when you aren't using it. It even returns to its original position when you let go of it. This prevents drooping, which happens with pull-down faucets. You can also switch between spray and stream with the press of a button.
The Essa has a flow rate of 1.80 GPM, which makes filling pots and washing dishes a quick process. The water flow shuts off after 4 minutes. This prevents you from accidentally racking up a huge water bill.
We like the TempSense technology because it means you'll probably not burn your fingers. The color depending on the water temperature: blue is 80 degrees, pink is 95 degrees, and red is 110 degrees..
Touch-Clean Spray Holes is another feature we like since you can easily clean calcium build-up without scrubbing.
An optional feature is Delta's Touch20 technology. This gives you the ability to turn your faucet on and off by touch.
The Essa's construction is similar to the design and functionality – very good. Its included InnoFlex PEX supply lines keep water out of contact with metal contaminants. The faucet does not have any lead either.
InnoFlex PEX waterways do not have joints or seals, so they don't leak as much. A diamond-coated valve reduces the chance of a leak. The faucet's life is approximately 5 million uses. Delta even gives you a Lifetime Limited Warranty since they have so much belief in their product.
The Essa faucet is compatible with a 1-hole or 3-hole deck mount. It requires a ⅜" supply connection and a 1.5" backsplash clearance (minimum). Expert installation can be purchased if you don't want to deal with that. Delta has a list of handymen across the country that can fulfill your order.
Final Verdict
This unit does not have many issues. It's affordable, beautiful, functional, and durable. We find it adequate for pro and beginner cooks. The Essa and the Leland are similar. Though it has a different exterior than the Leland.
[/vc_column_text][/vc_column][vc_column width="1/3″][vc_column_text]
Pros
Elegant design
Four color options
Spout can swivel 360 degrees
MagnaTite docking system prevents drooping
Lights that indicate the temperature
DIAMOND seal technology prevents leaks while increasing faucet life
Escutcheon included
1 or 3 hole mount
Limited lifetime warranty
Cons
Shorter than other faucets
Click to Check the Price
[/vc_column_text][vc_separator border_width="2″ el_width="70″][/vc_column][/vc_row] [vc_row][vc_column width="2/3″][vc_column_text]
Kraus is a new brand in the industry. Founded in 2007, they are the youngest company on our list. They definitely keep their customers happy by creating products that people actually want.
Kraus makes has three goals for their products: quality, creativity, and design. Making high quality faucets is obviously important. Therefore, they use the best quality materials and components. Vigorous testing and quality control are also central tenets of their philosophy.
We really like how committed they are to eco friendly practices. Preserving the Earth is an important goal for any company. A Kraus product is for you if you care about the environment.
Part of this eco friendly practice is the water efficiency that reduces your water bill and conserves water. It has a switch on the spray-head that lets you choose two different spray modes: stream or spray.
You just can't beat this unit when it comes to price and design. The pull-down spray-head has unparalleled reach and a commercial profile gives it a pro appearance. The 18" height and ability to swivel 180 degrees gives you plenty of working space. This is especially useful if you cook a lot. It has a very smooth retraction thanks to the Kraus' retraction technology.
Finally, the Kraus KPF-1610SS is very easy to use. Installation is easy since it comes with a one hole installation kit. Kraus does have a three-hole installation kit if you need that option.
The KPF-1610SS is for you if you want affordability combined with a stylish design. Kraus just puts so much emphasis on affordability and design that they are a hard option to pass up.
Final Verdict
The KPF-1610SS is a great if you want a professional looking product at a good price. A few flaws make it less appealing to some people. However, it has a decent profile, nice extras, and it is water efficient.
It also comes in at a great price.
[/vc_column_text][/vc_column][vc_column width="1/3″][vc_column_text]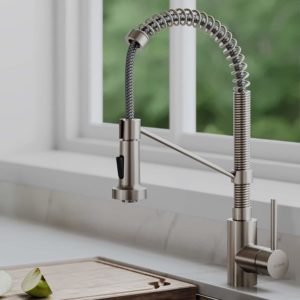 Pros
Flexible hose with a smooth retraction
Water efficient
One hole installation is included
18 inch arc
Ready for installation faucet
Wide range of finishes: stainless steel, chrome, matte black, stainless steel/chrome, and stainless steel/matte black
Two spray modes: spray or stream
Single handle that will last 500,000 cycles
Cons
Some parts made of plastic
Hot water hose may leak
Faucet may not seal correctly, which causes water leaks around their sinks. This is probably installation error though
Click to Check the Price
[/vc_column_text][vc_separator border_width="2″ el_width="70″][/vc_column][/vc_row] [vc_row][vc_column width="2/3″][vc_column_text]
Kohler is another trusted name in the kitchen industry. The modern arch and embellishments is most likely the first thing you notice about the Kohler, which means it fits particularly well traditional or contemporary kitchen.
The faucet has a reasonably sized footprint (28.8 x 12.2 x 3.0 inches). The gooseneck is rather beautiful while still being slightly dramatic.
As for the color, you have three different options: vibrant stainless, polished chrome, and oil-rubbed bronze. All Kohler finishes are rust and tarnish resistant.
The functionality is nice. Ceramic disc valves increase faucet life well past the industry standard. A single handle makes changing the temperature and controlling the flow of water super simple.
Water flows out this faucet at 1.80 GPM. You get a full 360 degrees of rotation as well, which is super useful.
A pull-down spray head makes filling bottles, pots, pans, and any other container easy. ProMotion technology makes using the spray head somewhat comfortable to use. Drooping just doesn't happen because of the DockNetik technology. This is just a magnetic docking system that automatically keeps the spray head in place when not in use.
The spray head comes equipped with three full functions: stream and pause. You can toggle between all three functions by touch too.Mineral buildup does not occur often, but it is easy to clean when it does occur.
Where the Bellera really shines is its compatibility with almost every kitchen. The Bellera can also be installed with every type of sink. All you need is an escutcheon and you can install this faucet on a 1, 2, 3, or 4 mount counter.
Flexible supply lines and an installation ring are both included to make installation much simpler. You can also purchase a soap dispenser or air gap cover. Kohler give you a limited lifetime guarantee on the faucet. Just make sure to register for the warranty.
Final Verdict
The Kohler Bellera is a great priced and high performance faucet. The beautiful design is a nice touch. Its transitional design means it won't work in all kitchens, but it works great in a transitional or contemporary kitchen.
[/vc_column_text][/vc_column][vc_column width="1/3″][vc_column_text]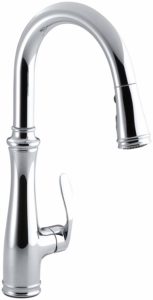 Pros
Elegant design
High arch
Pull-down spray head
No drooping
Not much mineral buildup
1, 2, 3, or 4 hole installation
Lifetime limited warranty
Cons
Unusual design that may not work in all kitchens
Click to Check the Price
[/vc_column_text][vc_separator border_width="2″ el_width="70″][/vc_column][/vc_row] [vc_row][vc_column width="2/3″][vc_column_text]
This faucet is an excellent choice if you want a durable faucet with less extra features and a lower price.
The Colony has a more subtle design and softer lines, so it fits in many different types of kitchen. The somewhat high arch makes fillings bottles, pans, pots, and other large containers a little easier.
The Colony is made of pure brass and has two different colors available for purchase: stainless steel and polished chrome. It uses a one-lever swivel spout, which means the faucet always looks clean and is easy to use.
It can hold up to prolonged exposure to water since brass is naturally resistant to corrosion. The Colony is also corrosion, scratch, and tarnish resistant because of its brass construction. The faucet will still look new for years!
The high arch faucet has a pull-down sprayer with three different modes: stream, spray, and pause. Most importantly, you can clean at a faster rate due to the 2.2 GPM flow rate. It also makes filling pots and pans much easier.
We are impressed that the faucet has a ceramic disc valve. This reduces the required maintenance. The handle is very smooth and easy to control too.
The valve can withstand one million on-and-off cycles without failure, so it will last a very long time.
The faucet doesn't have any lead, which is normal. The memory position valve is ADA approved as well. This valve allows you to use the faucet accidentally changing the temperature, which is super convenient.
The deck mounted installation works well with a 1 hole or 3 hole sink. You need to use the supplied escutcheon if you have a three hole sink.
This faucet has a lifetime function warranty and a finish limited warranty. The warranty only covers the original purchaser in the home that the unit was initially installed in.
Final Verdict
Is price your primary concern? Do you want design and functionality?
If yes, then the American Standard Colony is a great pick for you. The beautiful design and construction make a dependable and reliable faucet. And it has a lower price tag than other faucets. Just don't expect some of the fancy features of the more expensive options.
[/vc_column_text][/vc_column][vc_column width="1/3″][vc_column_text]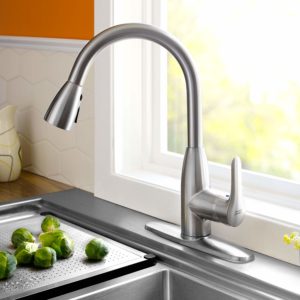 Pros
Transitional design
100% brass construction
Water flow rate of 2.2 GPM
Ceramic disc valve prevents dripping
ADA approved
Memory position valve
Can mount on 1 or 3 hole mount
Lifetime warranty
Cons
Click to Check the Price
[/vc_column_text][vc_separator border_width="2″ el_width="70″][/vc_column][/vc_row] [vc_row][vc_column width="2/3″][vc_column_text]
This is the coolest faucet on our list. We really like how different the KPF-1683ORB is than other faucets. It features an industrial aesthetic, very unique, that gives it a dramatic look with some contemporary appeal to it.
Some of you that prefer the more traditional look probably find this faucet too different. However, we like the quirkiness. It definitely works well for some people.
It has an decently tall arch since the dimensions are 23.5" x 12.2" x 3.0". The exposed coil on the pull-down sprayer really makes a statement and what ties together the industrial aesthetic. Again, this look isn't for every kitchen nor is it for everyone. However, it would look good in a surprising amount of kitchens.
You have two color choices: stainless steel or an Oil Rubbed finish. Both these are shiny silver type colors, so they will match your appliances. These are rust resistant finishes as well, so that's one less thing to worry about.
The construction is durable too since it's made of brass (lead-free). It also has a ceramic cartridge to prevent drips and give you some extra years of use.
It has a low-flow Neoperl aerator, which uses less water while still maintaining a high amount of pressure. The "LiteTouch" lever lets you control the flow of water and temperature.
The commercial aspect goes beyond design though. The faucet can swivel 360 degrees for added flexibility, just like a commercial kitchen faucet. It looks cool too.
The ergonomic pull-down sprayer has rubber nozzles that prevent the buildup of limescale, which reduces your maintenance. Pressing the sprayer's lever handle will divert the water from the main spout to a sprayer, but still maintain the 1.80 GPM flow rate.
You can integrate this faucet with your sink because of the single hole mounting. Kraus makes things even easier for you by including all the mounting hardware with purchase. Just make sure to purchase a corresponding escutcheon if your sink has more than 1 hole.
Kraus backs gives you a limited lifetime warranty. This is an excellent warranty too.
Final Verdict
This faucet makes an excellent design statement in your kitchen while offering the same useful features you would find in a commercial kitchen faucet. Again, we really love the design of this faucet.
[/vc_column_text][/vc_column][vc_column width="1/3″][vc_column_text]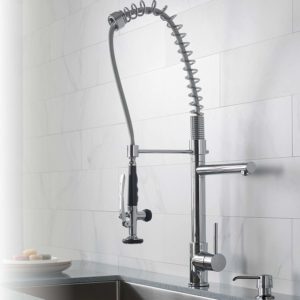 Pros
It has a unique design with exposed coils
Rust resistance
Kerox ceramic cartridge
Neoperl aerator uses less water while maintaining high water pressure
Cons
Only compatible with 1 hole sinks
Some people do not like the design
Click to Check the Price
[/vc_column_text][vc_separator border_width="2″ el_width="70″][/vc_column][/vc_row] [vc_row][vc_column width="2/3″][vc_column_text]
Kohler definitely is a trusted name in the industry. This is their second product to make our list. The contemporary design that is not sparse or minimalist is something that we really like.
The Simplice works great with a variety of kitchen styles thanks to its sleek design. Not many grooves makes cleaning this easier than some of the more sophisticated faucets on our list. It does have a slightly shorter spout (23.5 x 12.2 x 3.0 inches) than the Bellera's, which is kind of annoying. However, it has enough height to fill a pot with water.
Three color options are available: vibrant stainless, polished chrome, and matte black. All these finishes are rust and tarnish resistant.
This American manufactured faucet has some of the same features as the Bellera. The faucet contains a ceramic disc valve that increases the life and performance of the faucet.
The single-handle valve makes turning water on and off and adjusting the temperature even easier. The handle has temperature memory, which means that it remembers the last temperature that you had it set at. This is super convenient if you experience frequent interruptions while cooking!
The Simplice 1.80 GPM flow rate. It still meets the water savings requirements set by the California Energy Commission (CEC), CALGreen, and Colorado SB 14-103. The high arch spout can turn 360 degrees, so you have a lot of flexibility with what you can use.
The pull-down spray head makes for easy cleaning and pot filling. The spray head is a nylon hose and ball joint, which is so much more comfortable and easy to use. You don't even have to worry about the pull-down dragging or drooping because of Kohler's DockNetik. This is a magnetic system that automatically puts the faucet head back into place.
The spray head has three functions: stream, spray, and pause. All options are touch-toggle. The MasterClean Spray face can even withstand mineral buildup.That means one less thing to clean in your kitchen!
The Simplice is deck mounted if you have 1- or 3-hole sink. Installing with a 3 hole sink requires an escutcheon. Flexinle supply lines and an installation ring are also included to make installation simpler. You may also purchase a soap dispenser or air gap cover. Kohler offers a limited lifetime guarantee.
Final Verdict
The Simplice makes a great option if you want a more modern aesthetic at a lower price point.
[/vc_column_text][/vc_column][vc_column width="1/3″][vc_column_text]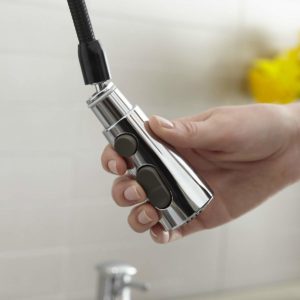 Pros
Beautiful design
High arch
DockNetic technology stops drooping
Less mineral buildup
1 or 3 hole installation available
Energy efficient
Lifetime limited warranty
Cons
Arch is not the tallest arch, but it is still tall
Click to Check the Price
[/vc_column_text][vc_separator border_width="2″ el_width="70″][/vc_column][/vc_row] [vc_row][vc_column width="2/3″][vc_column_text]
The second Moen faucet featured on our list. This unit has a pull-out design rather than a pull-down style. Pull-out faucets are the preferred choice of kitchen faucet for some buyers. They just aren't that common.
Pulldown faucets usually have a higher and steeper arc. On the other hand, their pull-out counterparts frequently have a more gradual arc that doesn't reach quite as high. They usually extend towards the user, which leads to the name pull-out.
The detachable faucet portion of a pull-out unit gives you more handle to hold onto and extra control. You do get a 68-inch braided hose, so this gives you a lot of slack for excellent maneuverability. It also returns to the holder when finished.
Pull-out faucets don't typically reach the same height as a pulldown faucet. This is because their necks extend toward the user, which reduces some of the space. Fortunately, the neck on the Moen 7294SRS has more reach than other pulldown units. It's basically a hybrid of the two styles.
This faucet offers basically the same stuff as a standard pull-out, but with some extra height. It's a perfect mix between the two, in our opinion.
The installation process is easy enough. No tools are necessary to attach water lines. The handle can be installed on the left or right.
Moen offers this in five finishes: spot resistant stainless steel, normal stainless steel, chrome, oil-rubbed bronze, and matte black. We like all their finishes.
However, Moen's spot resistant stainless steel finish is definitely our favorite because of the water spot and fingerprint resistance.
You can expect a flow rate of 1.5 GPM. The faucet also has a lever handle that is ADA compliant. Finally, the faucet comes with a Limited Lifetime Warranty against any leaks, drips, or defects in the finish.
Final Verdict
This is the best pull-out unit available due to the high arc, extra functionality, and the superior product quality.
[/vc_column_text][/vc_column][vc_column width="1/3″][vc_column_text]
Pros
Pull-out design
Higher reach neck than other pull-out units
Installation is simple with hydrolock technology
Five color options means you will find one that works with your kitchen
Limited Lifetime Warranty
Cons
Pull-out units have lower arcs than pull-down units
Click to Check the Price
[/vc_column_text][vc_separator border_width="2″ el_width="70″][/vc_column][/vc_row] [vc_row][vc_column width="2/3″][vc_column_text]
If you have a tight budget, then you should consider the Purelux Tulip kitchen faucet. We were pleased about the functionality despite being the lowest priced unit on our list.
The Tulip's simple design fits in a traditional or contemporary kitchen. It's definitely one of the shorter arches on our list with dimensions of 15.7 x 8.4 x 2.0. The composite construction keeps the price low.
The Tulip has great construction. A certified lead free waterway makes it very safe. It does comply to cUPC and NSF standards as well. The ceramic cartridge will last at least 500,000 cycles. They tested this. It should last about 10 years without any drips. Finally, it has a 1.80 GPM waterflow.
The Tulip has a few features that make operation easy. You can spin the spout 360 degrees. The single handle makes adjusting temperature and water pressure easy. We like the 16" pull down hose, but it could be longer. Fortunately, it does have an automatically retracting sprayhead.
The sprayer has different modes that range from spray jet to normal stream. The pause feature is nice since you don't have to flip the handle to stop the flow of water.
Surface mounted installation works with 1 hole or three holes. Purelux includes the following to make installation easier: two 18 inch supply lines, fitting accessories, flange, escutcheon for 3-hole installation, and an installation tool. You really do get a lot of value with the Tulip.
Purelux also gives you a 5 year limited warranty to make things even better.
Final Verdict
The Tulip is very budget friendly and great for those who want an arched spout with a pull down sprayer. It is a great choice if have a lower budget and want a beautiful and reliable faucet for your kitchen.
[/vc_column_text][/vc_column][vc_column width="1/3″][vc_column_text]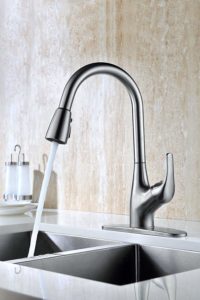 Pros
Affordable price
Cartridge made of ceramic
Spout swivels 360 degrees
Three spray options: spray, stream, pause
No need to purchase installation tools or extra parts
Cons
Composite materials
Low arch height
Click to Check the Price
[/vc_column_text][vc_separator border_width="2″ el_width="70″][/vc_column][/vc_row] [vc_row][vc_column width="2/3″][vc_column_text]
What to Look for When Buying a Kitchen Sink Faucet?
Types of Faucets
The most popular faucets for the kitchen are pull-out and pull-down ones. They have detachable heads that allow extended access during cooking or washing. Using their long hoses, you can easily fill the big pot that doesn't fit into the sink or do another complicated task.
Any of these types will be good for your kitchen, just keep in mind that the pull-out requires more space, and the pull-down is better for a small place.
Faucets are categorized by the handles options. Most of them belong to one of two general kinds, one-handles or two-handles. Two-handles have different control for cold and hot water, and one-handles operate the both with single handle.
Many customers (us included) consider one-handles more convenient type because you can turn the water on and off and adjust the temperature with one hand. Two-handles, though, are conventional, thus have the retro look that is required by some kitchen designs.
There are types of faucets that a decade ago were a high-end class of kitchen technics. The touchless faucets are trending now, and they are much more affordable nowadays. These fixtures have motion or touch control technology. While being considered luxurious, touchless faucets can be extremely useful. If you often got to wash a very dirty hands after gardening or garage works, touchless are great solution for keeping the faucet itself clean.
At last, you can find the voice guided faucets, which are the next step up from touchless. We can't recommend any of them yet because the voice processors are far from perfect at the moment.
Types of Cartridges
Faucet cartridge is the part of the fixture that regulates the water flow. It is the cartridge that opens and closes the water, thus, it is the most important mechanical part of the faucet. There are single-function cartridges and mixer ones.
Single-Function Cartridges
The single-function means there is only one water line per cartridge, either cold or hot. Two-handle faucets have single-function cartridges for each handle, for example.
Disc cartridges are named after a pair of ceramic discs inside each of them, that rotate against each other allowing water to pass through the gap. Ceramic discs are very durable in terms of wearing, so they can last very long without maintenance. They also rarely leak. There may be issues with the disc cartridge if there are debris in the water. Even the smallest particles can lodge the faucet, especially if the water pressure is strong. Their handles rotate 90 degrees.
The compression cartridges are set up in the faucets with recognizable knob handles. You have to turn the handles tightening them and sealing the water flow. These cartridges require maintenance and replacement way more often than disc ones.
Mixer Cartridges
Mixer cartridges are also called dual function. Their mechanism allows two water lines supply both hot and cold water into the chamber where they mix before getting into the spout. Mixer cartridges are operated with only one lever.
Disc mixer cartridges have the construction which is very similar to the single-line disc ones. The only difference is two openings in the ceramic discs set, for two water lines. They have the same pros and cons though.
There are ball valve as an alternative to disc mixer ones. They use the same principle but are more complicated in construction. That's why they are hard to maintenance; if they leak you will have to replace the whole unit. To avoid the problems (and additional expenses), opt for valves made from solid metals like brass. Plastic ones are one-offs in most cases.
Controls
The main question about controls is should they be touchless or not. All the buzz around touchless controls are created by those who find them very helpful in cases like limited abilities, dirty jobs, hands busy, etc. If you often have the need to on / off water without touching controls, you should buy a touchless faucet. Otherwise, this feature doesn't add much value.
Currently, the most popular controls type is single-handles. They have one lever to guide cold and hot water lines and to adjust temperature. It's convenient because you can do it with one hand instead of two.
Two-handles allow to adjust the water temperature more accurately, though. It is not substantial benefit for the common usage, that's why people opting for this type of faucets do it due to their nostalgic look.
Useful Features
Spraying modes. Many of the kitchen faucets have various configurations of spraying to help in cooking tasks. There are different kinds of stream regulations, like boosting it to shorten time of filling the pot. The sprayers often have triggers on them to allow adjusting water flow with one thumb only.
Protective finish. Faucets are made from different materials but the finish matters as well. The ones eliminating water traces will help you to reduce cleaning job.
Auto-shutoff feature. Touchless faucets of the newest generation offer the automatically shutoff feature after water runs for several minutes. It's handy if you have kids or elderly family members with memory issues. Some models also have the improved sensors to avoid false activation.
There are numerous of advanced features that different kitchen faucets have, like simplified installation, temperature indicators, magnetic head docking, and many other which can affect your decision.
Price Ranges
One can purchase a faucet for the kitchen for less than $50. In this price range, the fixture may have the decent look but its inner details quality is questionable. Remember, that kitchen faucet is a heavily-used fixture that has to be reliable.
As the price gets higher, the quality becomes better, and so does customer feedback. You can find the brass or stainless steel faucets in the range between $50 and $100. They have spectacular finishes and metal cartridges, which last longer and not so prone to leaking.
The price range between $100 and $250 is the one where most of our recommended models are. These faucets have sophisticated designs, improved features, and solid quality, backed by a reputable brand. For years-long effect, look for the models of this range.
There are faucets that are more expensive than $250. They are top-tier products with non-questionable quality and impeccable appearance. We couldn't find significant differences between these hi-end fixtures and the ones priced $100-250. There are improvements we consider minor at this price but it's totally up to you what to prefer.
All-in-One Retailers or Local Plumbing Stores
The question is where should you buy a fixture – at superstores by cheaper price or at specialized plumbing stores where they usually cost extra? While researching for this review, we can state that a number of faucets at the big-box stores look great for the price but have lower quality inner mechanism and hardware. That's eventually the reason of their affordable pricing.
At the smaller plumbing shops, you can rest assure that they won't try to sell you the no-name copy of a reputable brand with a low-tier internals.
Big chain stores often start to manufacture the copies of best selling models to sell them cheaper than the branded products. They save on marketing, ads, and some other expenses this way but usually can't provide the same quality.
We recommend to opt for the trusted brands when it comes to faucets. As heavily-used fixtures, these products are prone to leak or break if they have poor quality details inside. You will pay for repair or buy and install another one in the short term. It is totally the case when miser pays twice.
Best Kitchen Faucet Brands
Who makes the best faucets for your kitchen?
Delta
Delta is the third oldest brand on this list and was founded in 1954. They are most likely the most popular kitchen brand in North America.
Delta does innovation just as good as everyone else. Their technologies have completely changed the industry and forced everyone else to adapt.
The use of high quality parts make leads to long-lasting products. Honestly, most people voluntarily replace their faucet or sell their home before their Delta faucet breaks.
A great emphasis is placed on customer service as well. The limited lifetime warranty is the best example of this.
Moen
Moen was a brand founded with safety and ease-of-use in mind. This is apparent with the Hydrolock Connection System, Motionsense, Spot Resist finish, and Reflex System. All those technologies make life in the kitchen that much safer and easier.
Innovation is integral to the Moen brand. The general industry consensus is that the best faucet brand a tossup between Moen and Delta.
Moen's does have good customer support, but Delta probably beats them in this category. They do include a limited lifetime warranty on every product. The customer service issues generally arise when a warranty claim arises.
Kohler
Kohler is the oldest brand we reviewed. They were founded in 1873.
Kohler takes sophistication to new heights by focusing on the more traditional silhouette design. This definitely gives your kitchen an upscale appearance.
Kohler's main focus is still a minimalist design at a great price. Plus, they have an upscale design that works great in a higher end kitchen.
Kohler offers a limited lifetime warranty as well, which you might notice is industry standard for the top faucet brands.
Kraus
Kraus was founded just 12 years ago. They have certainly risen quickly for being such a new company though.
Just take a look at the amount of Kraus products you see at your hardware store. The Kraus brand will be everywhere.
Kraus' mission is to provide high quality products at a price point that average people can afford. Their products aren't particularly technologically advanced. However, they are durable and will last you years. Their faucets have ceramic cartridges and Neoperl aerators. The ceramic cartridges don't drip. The aerators use less water while still giving the same amount of pressure.
Kraus includes a limited lifetime warranty with purchase. Again, this just an industry standard at this point.
[/vc_column_text][/vc_column][vc_column width="1/3″][/vc_column][/vc_row] [vc_row][vc_column width="2/3″][vc_column_text]
[/vc_column_text][/vc_column][vc_column width="1/3″][/vc_column][/vc_row]