Last Updated: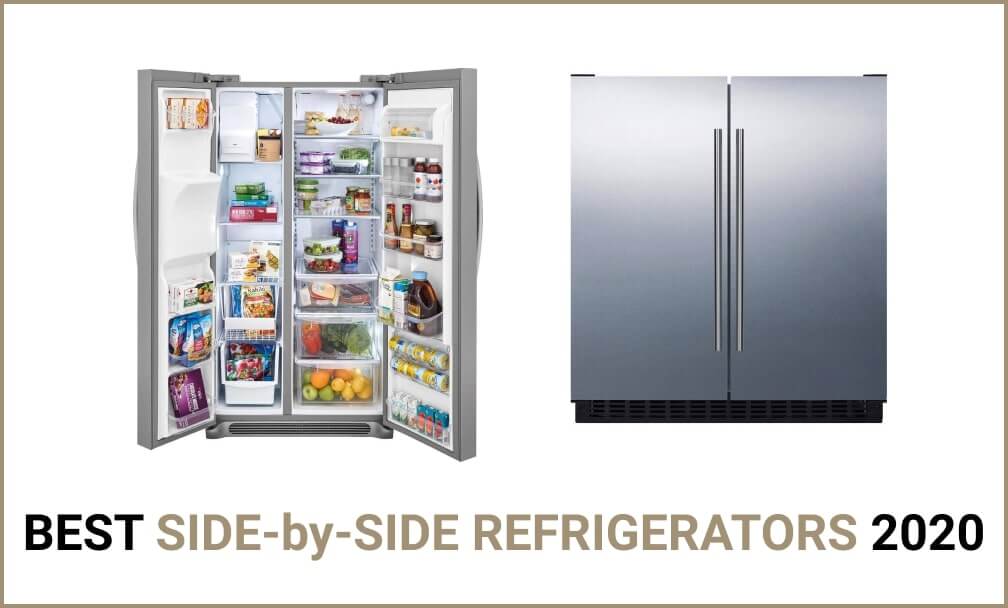 Understand the Benefits and Advantages of a Side-by-Side Refrigerator
When it comes to choosing a new refrigerator, there are a few things to consider. First, do you want a top and bottom unit, where the freezer is on top and over the fridge, or on the bottom, below it. Or, would you prefer a side-by-side unit, where there is one complete side for the fridge and one complete side for the freezer compartment? While some people like their freezer section above or below, the side-by-side fridge with the full-length vertical doors is a great choice as it gives you easy access to every area within the unit.
The convenience factor is amazing, because it allows you a quick, easy view of everything, and we think better organization.
When choosing a side-by-side refrigerator in 2023, here are a couple of the things you'll want to consider. First, we'll look at the advantages of this style of appliance, and then compare it to other styles so you get a complete overview.
We'll also look at things you might want to know and may not have thought about. We'll also show you a nice selection of top sellers and show you what's to love and what may not work for you. With a solid view, you'll be able to make a clear choice as to the best side-by-side for your kitchen.
And yes, just like other models, you can get water and ice dispensers on this style of refrigerator.
Why Consider a Side-by-Side Refrigerator
Do you like having to squat down, bend over, and dig through a full freezer, trying to see what you have? Who does? One of the best things about a side-by-side model refrigerator is that you can easily see what's inside. Because you have so much storage space and shelving, it's easy to organize your freezer, know what's there, and not have to pull things out just to see what's in the back.
And the units with the drawer on the bottom? Ugh! Who wants to bunch up and squat down, just trying to find that pack of ground meat you put in there, somewhere. Where was that again? Wait, if you move things over and pull them out, maybe you'll find it.
If you like an organized freezer, the side-by-side is ideal. You can easily have a section for frozen dinners or pizzas, a section for meat, a section for frozen veggies or fries. Once you start using a freezer this way, you'll wonder how you managed so long the old-fashioned way.
People often compare square footage when looking at the storage space, but if it's all crammed in, it doesn't necessarily matter if you have a little extra space. But, if you are all about the square footage, you may get a smidge more in the French door style.
Another consideration is do you prefer a swing outdoor, or a pull-out drawer? If you have a visual preference, this is something to keep in mind. In a French door styled fridge, the freezer drawer pulls out. One good thing about a pull-out drawer is if you have something very large to store, such as a large shrimp tray, large catering sizes of lasagna, or a lunch meat tray for a gathering, it may fit easier. Sometimes, those really large trays are harder to fit in the side-by-side, but how often do you need something like that? If you entertain a lot, this may be something to note.
If cost is an issue, a side-by-side may be a more affordable option, offering you a bigger choice selection. With French doors being trendy, the price tends to be a bit higher on them currently.
Things to Know About Side-by-Side Refrigerators: Size Wise
Again, the size of each refrigerator and freezer will be something to consider when it comes to what your family needs. What price range are you in? And do you prefer organization and extra shelves, or like it all together in one pull out drawer.
What's the trade-off? Your side-by-side offers you a generous space on both sides of the unit. The French door style with a freezer on the bottom may offer you more space, but the bottom freezer is a trade-off.
Let's take a closer look at a couple of the different models, so we can compare them.
There are a few details about the French door units that stand out and may be of interest to you, such as extra options, but sometimes this raises the cost. You may find things like twin evaporators, bottle chilling, and special humidity and thermostat controls with crisper drawers. Because they add all these fancy features, they're selling to a high-end client that doesn't mind paying more. If you've got the budget, these things may be of interest like the multi-airflow system. The question is, how much more are you going to pay?
As for the water and ice dispenser on the door, most units have them now, but it does increase the cost. Though, to be honest, sometimes it can be difficult to find the units without them! Just be aware of what they will cost in energy and such.
Other details to consider
Do you love an ice maker? They can be great and handy to use, but one thing worth noting is they tend to cause higher repair bills. Consumer Reports says, "Another major drawback to in-the-door ice and water dispensers is that they tend to break down a lot. Repairs could set you back a few hundred bucks, including the cost of the service call. In Consumer Reports' brand reliability surveys, refrigerators with icemakers have significantly higher repair rates."
Now, take in mind that report was from 2014, so things may have improved some. Either way it's important that if you want a water and ice dispenser that you do your research on the best brands, so you can make sure to save yourself that hassle. Oh, and while you may not be aware, there's a filter you'll need to replace regularly.
We've done the work for you and chose models that are highly reviewed and are reliable. This will help you avoid costly repair bills. Now that we've covered all the bases, let's take a closer look at a couple of models that are worth considering.