Best Cordless Stick Vacuums for 2022 | 2021 (Top 10) – Buyer's Guide & Reviews
[vc_row][vc_column width="2/3″][vc_column_text]
Last Updated: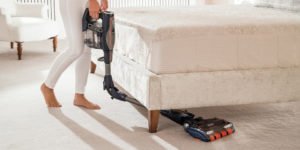 Technology continues to advance at a rapid pace, which makes our life easier. Cordless vacuums are one of these innovations that have made our daily life easier. Cordless vacuums offer more freedom, maneuverability, and accessibility compared to the outdated corded option.
We have done the research for you and selected the best cordless vacuums. We've also included a comparison chart and buyer's guide to assist you in finding the cordless stick vacuum unit that's best for you.
[/vc_column_text][/vc_column][vc_column width="1/3″][vc_column_text]
Top-rated Stick Vacuums Comparison Chart
[/vc_column_text][/vc_column][/vc_row] [vc_row][vc_column][vc_column_text]
Reviews of the Best Cordless Stick Vacuum Cleaners in 2021
This list includes the best 10 models of cordless vacuum, stick vacuum, spanning from high-end options that offer top-of-the-line features to budget alternatives that can satisfy basic needs.
Here's our picks for the Best Cordless Stick Vacuum and Best Stick Vacuum Cleaners.
[/vc_column_text][/vc_column][/vc_row] [vc_row][vc_column width="2/3″][vc_column_text]
1. Tineco A10 Master – Best Cordless Stick Vacuum to Buy in 2021
The Rundown
Tineco has been around since 1998 and have made a name for themselves in many countries (they're currently sold in over 60) overseas. Their flagship vacuum in the U.S. is the A10 vacuum.
We originally wrote this article in May of 2017 and chose the Shark and Dyson as the best cordless vacuum. However, as of 2019, 2020, and 2021, the A10 Master from Tineco is our choice for best all-around cordless stick vacuum.
It's clear Tineco has spent a great deal of time analyzing the cordless vacuum market and working to create a cordless vacuum that hits delivers exactly what consumers want. The two detachable and chargeable batteries that are included with purchase are our favorite features.
The inability to detach and charge the battery is one of the biggest problems with Dyson cordless vacuums. Shark's IONFlex 2x DuoClean IF251, reviewed below, solves this issue with their two detachable batteries, but the two batteries cannot be charged at the same time.
Another feature the A10 Master gets right is its continuous power mode lock. Tineco has designed the A10 Master with functionality to keep the vacuum on without pressing the button. This may not seem like a big deal, but your index finger will get tired after holding the power button down for more than a few minutes.
The vacuum includes an LED multi-tasker power brush as well as an LED soft-roller power brush. The multi-tasker brush pulls out the embedded dirt from carpet. The soft-roller brush works to protect your hard surfaces while still picking up any and all unwanted filth. LED lights on the attachments make it easy to see what you're doing.
As for suction, the A10 Master is among the best vacuums. In fact, many users believe it has some of the best suction on the market even when compared to corded vacuum cleaners. This is because the 110 air watt motor of the A10 gives this vacuum four times the suction of ordinary direct current cordless vacuums. Additionally, the A10 Master's fully sealed four-stage filtration system is constantly working to ensure clean air in your home.
The Bottom Line
Tineco's vacuum cleaner has everything you could want from a cordless vacuum. Their patience and willingness to listen to cordless vacuum users has paid off. The A10 Master is the most complete cordless vacuum available and deserves every bit of the admiration it's been receiving this year. Plus, you get a high-end vacuum cleaner at an affordable price.
[/vc_column_text][/vc_column][vc_column width="1/3″][vc_column_text]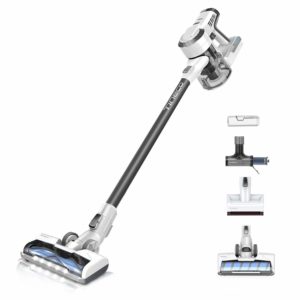 Pros
Purchase includes two detachable batteries that can be charged simultaneously. Charging can be done while attached or detached from the vacuum
Continuous power mode switch lock means no numb finger from holding down the power button for extended periods of time
Beautiful, modern design with quality parts and a long-lasting build
Two power brush attachments for both carpet and hard floors
LED lights are attached to spot otherwise hidden dirt
Great suction power
About fifty minutes of non-stop cleaning
Four stage filtration system helps keep the air quality in your house pure and allergen free
Reasonable price point for a quality product
Cons
Some may be weary of purchasing a vacuum cleaner from a brand they might not have heard of before
Click to Check the Price
[/vc_column_text][vc_separator border_width="2″ el_width="70″][/vc_column][/vc_row] [vc_row][vc_column width="2/3″][vc_column_text]
The Rundown
Shark is a relatively new entrant to the vacuum market. However, the parent company of Shark – SharkNinja – produces a high-quality countertop appliances under the Ninja brand.
The DuoClean IF251 has standard, high quality features you'd expect to find on a Shark vacuum. It also has truly unique and useful features not found in any other cordless vacuum. We will review this unit's 2X ION Power Pack System, MultiFLEX technology, handheld mode, DuoClean technology, easy-access buttons and included accessories.
The IONFlex 2x DuoClean IF251's 2x ION Power Pack System allows for seamless vacuuming by using removable and rechargeable battery packs. The DuoClean IF251 batteries can be charged separately from the vacuum itself. This allows you to vacuum with one battery while charging the other battery. Waiting for a battery to charge in between longer jobs is not a problem with this vacuum. Unfortunately, you can only charge one battery at a time.
Another innovative feature is the MultiFLEX technology used on this unit. Shark has designed this unit with a wand that can bend to make cleaning underneath furniture simpler. No bending your back required. MultiFLEX allows the unit to folder over itself, which allows for a freestanding cordless vacuum when not in use. You do not need to prop this up on a wall when you take a break. This is a very nice feature since leaning a vacuum on a wall is inconvenient and increases the chance of the vacuum cleaner falling.
The DuoClean IF251 also has a handheld mode, which is basically a requirement for a top-rated vacuum cleaner. This unit can quickly be converted into its handheld mode. The handheld mode offers the same superior floor cleaning for furniture, your car, or anywhere other location.
Shark vacuums have a reputation for picking up dirt, dust and debris exceptionally well and this unit is no exception. Much of Shark's reputation is due to the DuoClean technology – featured on this particular unit – which consists of a bristle brush for deep cleaning carpets and a soft brushroll to grab larger debris.
The easy access buttons and included accessories are some other features we like. You can easily cycle between floor and carpet mode as well as normal and super mode. It also has a locking mechanism so you don't have to press a button for long periods of time. Included with purchase are two interchangeable batteries, a charging dock, a dust crevice tool, a pet multi tool, and an anti-allergen dust brush.
The Bottom Line
The innovative and tried-and-true features combined with the superior cleaning power and unique technology make the Shark IONFlex 2x DuoClean IF251 a great choice.
[/vc_column_text][/vc_column][vc_column width="1/3″][vc_column_text]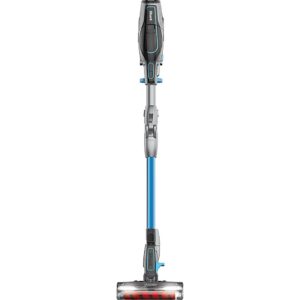 Pros
Included with purchase are two removable and rechargeable batteries that can be interchanged while the other is charging
Innovative MultiFLEX technology means easy access under furniture and allows for the vacuum to stand on its own when not in use
Handheld mode offers added convenience and versatility for vacuuming furniture, the car, or any other difficult to reach spot
Utilizes Shark's DuoClean technology, which uses both a bristle brush and soft brushroll that deep cleans carpet while grabbing larger pieces of dirt and dust
Easy-access buttons make turning the vacuum on and switching modes extremely simple
Pet multi-tool and anti-allergen dust brush provide a deeper clean that rids your house of allergens
Cons
One of the more expensive cordless vacuums on the market, although it's features do warrant a heftier price tag
Only one battery can be charging at a time
May not have as much consistent suction as some of its competitors
Click to Check the Price
[/vc_column_text][vc_separator border_width="2″ el_width="70″][/vc_column][/vc_row] [vc_row][vc_column width="2/3″][vc_column_text]
3. Hoover Linx BH50010 – Best Budget Lighweight Cordless Vacuum
The Rundown
Stick vacuums are a great choice for those living in tight apartments or condos without much storage room for appliances. They excel in the space saving qualities, but generally have less power and features than you would get with a traditional upright or canister vacuum. The Hoover Linx Cordless Stick vacuum cleaner does a great solving those problems.
If you've ever shopped for or even used a vacuum then you know the name "Hoover". They are an American company that developed the first upright vacuum and have been a household for over 100 years due to their high quality and technologically advanced products. Due to their reputation, a Hoover vacuum is usually a great choice.
The Linx is the first ever stick vacuum with Hoover's patented WindTunnel Technology. This technology helps trap and channel dirt by lifting and removing surface debris and dirt that is embedded deep down in carpet. Simply put, it is a more efficient way of removing dirt from your floors.
The cyclonic filtration edge cleaning also helps make things simpler for you. The filter is washable and provides a deeper clean. Replacement filters can be repurchased when they get unusable: Hoover Linx Washable & Reusable Foam Sponge Filter, Pack of 3. These two technologies give the Linx the performance you'd expect from a more traditional vacuum.
Other design features of the Linx ensure that it gives you a deep and thorough clean. The wider base leads to a wider cleaning path. This means you cover more surface area in a shorter amount of time.
The edge-to-edge bristles allow you to clean closer to walls and corners. Even the highly reclinable handle allows you to reach under furniture.
The Linx is 10.4 x 8 x 24.8 inches, which is shorter than most of the vacuums on our top ten best cordless vacuums list. This low profile base easily fits under counter edges and tables. There's really no spot it can't reach when combined with the handle recline.
It's also a light 10 pounds, which makes it easy to carry. The Linx functions very well on both bare floors and carpet. It is equipped with an on/off brushroll switch to make the change between surfaces as smooth as possible. Other user-friendly features include power controls at your fingertips and a bottom release dirt cup that allows you to clean up without getting your hands dirty.
Hoover takes the cordless feature to the next level by equipping the Linx with a very powerful, and long lasting, 18 Volt lithium-ion battery. The linx comes with this high power battery and charger, but you can also purchase an interchangeable Hoover LiNX 18 Volt Lithium Ion Battery should you need it. The smart technology battery fuel gauge tells you exactly much battery life you have left. A very useful feature.
Hoover backs the Linx with a limited 2-year warranty.
The Bottom Line
The Hoover Linx is a stick vacuum that operates like a traditional upright vacuum cleaner. It has power, convenient features, and performance all at a budget friendly price. There are some minor issues, but if you're looking for a stick vacuum, then this is a great choice.
[/vc_column_text][/vc_column][vc_column width="1/3″][vc_column_text]

Pros
The Hoover brand name
WindTunnel technology that lifts and removes dirt and debris
Works equally well on carpet and bare floor
Wider base with edge-to-edge bristles
Handle that can extremely recline to get hard-to-reach places
Bottom release dirt cup
Cons
Some people dislike the shorter handle
Not everyone prefers a bagless vacuum
Click to Check the Price
[/vc_column_text][vc_separator border_width="2″ el_width="70″][/vc_column][/vc_row] [vc_row][vc_column width="2/3″][vc_column_text]
The Rundown
The Shark Navigator Freestyle is the best option if you're working with a tight budget. As a stick vacuum, it offers a lower cost and a space-saving design. At 10.5 x 9.6 x 46 inches and 7.5 pounds, the Navigator Freestyle can easily be stored in small closets. It is also easy to move around and transport from room to room.
Shark is a company with their ultimate goal to provide products that are innovative, easy to use, and affordable. The Navigator Freestyle definitely lives up to the goals of Shark by providing consumers with an innovative product at a cheaper price-point.
The Navigator Freestyle provides users with a quick and convenient clean-up option that can be used on all types of surfaces. Though it is not the most powerful vacuum cleaner.
You can easily store it in the pantry or any closet. You can even carry it from one room to another with minimal effort. The Navigator Freestyle has an extra-large dust cup despite the small size of the vacuum cleaner. This cup holds more dirt and debris, which means less interruptions during cleaning.
Shark also offers numerous cleaning tips for those who want to deep clean their home. The dust cup is innovatively designed so that it can be emptied from either the top or the bottom so you don't have to get dirty.
This vacuum still offers fantastic cleaning on both bare floors and carpet despite not being the most powerful vacuum. The Navigator Freestyle offers a 2-speed brushroll, which optimizes cleaning efficiency on carpet and bare floors. Not many stick vacuums have multiple speeds.
The powerful motorized brush results in remarkably strong suction power that lifts embedded debris and pet hair from floors. In fact, the Navigator Freestyle was rated the best stick vacuum for picking up pet hair.
Shark included other consumer-focused conveniences as well. The Navigator Freestyle has advanced swivel steering, which allows for excellent control and easy maneuvering around furniture.
It comes with a precision charger that doubles as a storage dock. The total charging time is 4 hours.
Shark backs the Navigator Freestyle with a 1-year limited warranty. You can even purchase additional protection plans that cover your vacuum above and beyond the scope of the warranty.
The Bottom Line
If you're in the market specifically for a stick vacuum, then the Shark Navigator Freestyle is a great option. It's easy on your wallet and tough on the dirt and debris in your home. It fits easily in tight spaces and is great for those with shedding pets.
[/vc_column_text][/vc_column][vc_column width="1/3″][vc_column_text]
Pros
Lower price point
Compact and lightweight for easy transfer and storage
2-speed brush roll for use on carpet, tile, or hardwood
Powerful motor and suction that is very effective on pet hair
Easy to empty and extra large dust cap
Advanced swivel steering
Precision charger that doubles as a storage dock
Cons
Less powerful than some upright vacuum options
Lack of charging options
Click to Check the Price
[/vc_column_text][vc_separator border_width="2″ el_width="70″][/vc_column][/vc_row] [vc_row][vc_column width="2/3″][vc_column_text]
The Rundown
As one of the more affordable options on our list and the skinniest, the Electrolux Ergorapido is the best choice for those on a tight budget and tight on space. Electrolux has been a global leader in home appliances since 1919. They design their products based on deep consumer insight and develop them in collaboration with professional users. With their headquarters in Stockholm, Sweden, the simple, sleek, and stylish Swedish design elements are apparent in all of their products—the Ergorapido included.
Most people choose stick vacuums—like the Ergorapido—for their compact dimensions and easy storability. The Ergorapido definitely delivers in that regard. At only 5.5 pounds, it can be easily carried from room to room without much effort. And because it is bagless, there is no awkward bulk to negotiate as you try to move the vacuum. Like its style implies, moving the Ergorapido is much like carrying a stick.
Its dimensions of 10.8 x 5.0 x 42.5 inches make it the skinniest vacuum on our list, making it the perfect choice for those living in a small apartment, condo, or college dorm.
The Ergorapido has a lower price point and small footprint, but does not lack power. The bagless cyclonic system gives you consistent suction power. The motorized brushroll thoroughly cleans your home. A high performance 10.8V lithium turbo battery powers the vacuum. The battery runs more than 20 minutes per charge and charges in a short amount of time.
We like the 180° "EasySteer Maneuverability", which allows you to turn and move easily and smoothly. Another great feature is the self-standing. While this may not seem like a big deal, it's very helpful whenever you may have those unexpected interruptions to your cleaning.
Finally, the vacuum comes with both a crevice tool and a dusting brush that you can store in the handle. This allows you to clean crevices, stairs, and flat surfaces easily and without needing any other appliances.
The most impressive convenience of the Ergorapido is the built-in handheld vacuum. It easily detaches from the main unit and can clean small spills or anything above the floor. This feature actually provides you with two separate appliances.All in all, that makes the Ergorapido one of the most feature rich and budget friendly options on our list.
One thing to consider with the Ergorapido is that it does require a genuine Electrolux Ergorapido Filter when replacement is needed. It is also only compatible with Electrolux accessories. The impressively long 5-year limited warranty does make up for this. You may have the option to purchase an additional warranty that goes above and beyond the one included with purchase.
The Bottom Line
The Ergorapido is an amazing choice for those who have a tight budget and don't have a lot of space to spare. This vacuum is the perfect appliance for those in apartments or condominiums with bare floors.
[/vc_column_text][/vc_column][vc_column width="1/3″][vc_column_text]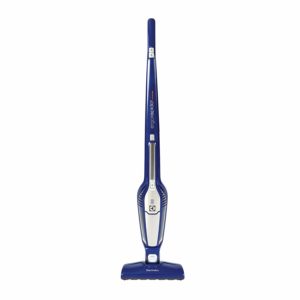 Pros
Great price
Ultra compact and lightweight
180° EasySteer Maneuverability
Easily detachable handheld vacuum, crevice tool, and dusting brush all included and stored on the unit
5-year warranty
Cons
Not as effective on carpet
Requires genuine Electrolux filters and accessories
Click to Check the Price
[/vc_column_text][vc_separator border_width="2″ el_width="70″][/vc_column][/vc_row] [vc_row][vc_column width="2/3″][vc_column_text]
The Rundown
When you hear Black+Decker, the first thing that comes to your mind is probably not vacuums. More likely, you've seen their products at home improvement stores and may even have a few in your tool kit. The very popular company is an American manufacturer of power tools, accessories, hardware, home improvement products and technology based fastening systems. The know a thing or two about technology, harnessing power, and home improvement. This makes them a perfect fit for producing vacuums.
They've used that wide range of knowledge to create an inexpensive, durable, and versatile vacuum. Black Decker combines the pros of both kinds with this ultra powerful and still slender stick vacuum. The Black+Decker's suction is strong enough to pick up dirt and debris with just one pass.
The vacuum was able to pick up 1 cup of Cheerios in just one pass over bare floor. A powered beater bar, which agitates dust and debris in carpets for a deep-down clean really helps. We especially love that this beater bar is easily removable for quick cleaning and maintenance.
The powerful suction of the Black & Decker 20V 2 in 1 is thanks to a strong lithium battery. Not only does it provide a tremendous amount of power, it also provides long vacuuming time per charge. The Black+Decker is able to vacuum a 2500-square-foot house on just one charge. And the best part is that—like all of the vacuums on our cordless vacuums list—the Black and Decker provides all this power without a cord getting in the way. With purchase of the vacuum they also include a jack plug battery charger as well as an extendable crevice tool, brush attachment, pleated Pre-Filter, and the previously mentioned washable filter.
The Black Decker also boasts more technological features than many of its stick competitors. This particular vacuum is part of their "SmarTech" line that is focused on cleaning smarter, not harder.
The vacuum's "AutoSense" feature automatically detects and adjusts for bare floor and high pile carpet. The "BatterySense" feature indicates the level of charge. And the "FilterSense" feature illuminates when a new filter is required. You'll never use it with a dirty filter nor have to check it every time you vacuum. We also love that the filters are inexpensive and easy to acquire.
The vacuum also includes a washable and reusable filter if you'd prefer to use that.
The reason that many people opt for stick vacuums are its storability and transportability. Although this Black+Decker unit is slightly larger than other sticks—coming in at 11.4 x 10.5 x 29 inches and 9 pounds in weight—the vacuum is still easy to store and to carry from room to room.
It also features swivel steering, which allows you to get around furniture easily and without any nicks. And where it really leads the pack in versatility is that it boasts a combined handheld vacuum for smaller and hard-to-get-to messes. No need to lug the whole vacuum up the stairs for a small spill. Just detach the handheld Dustbuster.
They clearly believe in the vacuum as much as we do because they back the product with a 2-year limited warranty.
The Bottom Line
The Black+Decker provides a great mid-range option that is powerful while still more compact than most uprights. The added benefit of the 2-for-1 handheld option and a reasonable price make the Black+Decker is hard to beat.
[/vc_column_text][/vc_column][vc_column width="1/3″][vc_column_text]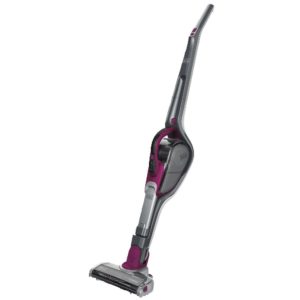 Pros
Lower price point
2-for-1 stick and handheld vacuum
Stronger suction power than found in most stick vacuums
"SmarTech" technology features include AutoSense, BatterySense, and FilterSense
2-year limited warranty
Cons
Slightly larger than most stick vacuums
Dust holder requires emptying after every use
Click to Check the Price
[/vc_column_text][vc_separator border_width="2″ el_width="70″][/vc_column][/vc_row] [vc_row][vc_column width="2/3″][vc_column_text]
7. Bissell 1984 AirRam – Best Mid-Priced Cordless Vacuum with Long-lasting Battery
The Rundown
A powerful upright, the Bissell 1984 AirRam Cordless Vacuum is a great option for anyone looking for a more traditional vacuum at a reasonable price point. Bissell has been a leading name in the industry since 1876—over 140 years! It's a safe bet that Bissell makes quality products.
The AirRam is certainly a product heavy consumer focused research and design. We love that the vacuum is equipped with a professional-grade, 22V Lithium Ion battery. The strong battery runs for 30 minutes per charge and provides fade-free suction across carpets, hard floors, and area rugs. The suction is sufficiently powerful to collect aggravating pet hair.
Power indicator lights located on the battery tell you when it's running out of juice, and you can remove and charge the battery wherever is most convenient for you.
The AirRam was designed for convenient for use within the home while providing commercial strength. The large on/off foot pedal makes for very easy functionality.
At 11.8 x 9.9 x 44 inches and only 7.8 pounds, this upright provides the compact features that you normally only get with a stick vacuum. Its handle is fully collapsible, which makes for easy storage.
This same handle also lays perfectly flat and allows you to vacuum under furniture, beds, and other hard-to-reach places easily. And its swivel steering makes navigating around furniture easy.
We especially love Bissell's bright LED lights that illuminate dirt on the floor, making it easy to know where to pass next.
As noted above, the AirRam is great on all surfaces. The multi-surface brush roll doesn't need to be turned on or off depending on the floor as it was designed specifically for seamless transitions between flooring types.
You don't need to worry about those bristles ruining your hardwoods either. They are made from tested scratch-free materials. In addition, the vacuum has "Suction Sweep Technology" that increases the cleaning efficiency at the edges of the vacuum. The removable dirt bin has a built-in "Easy Empty Slider" that actually pushes out the dirt and debris. This keeps you clean.
Bissell backs the AirRam with a 2-year limited warranty. Keep in mind, you may have the option to purchase an additional warranty.
Unfortunately, the AirRam does not come with a built-in handheld cordless vacuum. If you are a fan of Bissell and would like to get a coordinating hand vacuum, then you should consider the Bissell 1985 Multi Cordless Hand Vacuum. It's powerful and lightweight, which is a great combo for any hand vacuum. It was designed specifically for versatile cleaning in even the hardest to reach places. It is also equipped with the same great lithium ion battery as the AirRam.
The Bottom Line
The AirRam typifies what Bissell has been successfully providing for the last 140 years. Powerful, durable, and useful. The AirRam has everything that the everyday consumer needs.
[/vc_column_text][/vc_column][vc_column width="1/3″][vc_column_text]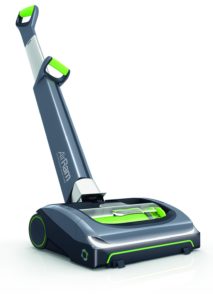 Pros
Professional-grade lithium ion battery
30 minutes of fade-free suction per charge
Removable battery for easy and flexible charging
Multi-surface scratch free bristle roller
Suction Sweep Technology for edge-to-edge cleaning
LED lights on power foot to illuminate dirt
Dust cup with "easy empty slider" for mess-free dirt removal
Cons
Doesn't include a handheld vacuum attachment
Same setting for all floor types means this unit may not be as efficient
Click to Check the Price
[/vc_column_text][vc_separator border_width="2″ el_width="70″][/vc_column][/vc_row] [vc_row][vc_column width="2/3″][vc_column_text]
The Rundown
This is the second Hoover to make our list. Hoover has been a leading name in the industry for over 100 years due to their high quality and technologically advanced products, so this shouldn't be surprising. We previously reviewed their stick vacuum. The Air Lift is their upright vacuum.
Although on the higher range in terms of price, The Hoover Air Lift has the power, features, and brand reputation to match its cost. It also has the longest run time per charge of any of the vacuums we've covered.
The Lithium Life Battery Technology includes two extended runtime batteries. These batteries provide an average of 50 minutes of fade-free suction on both carpets and hard floors per charge.
These rechargeable batteries power Hoover's exclusive "WindTunnel 3" technology. This technology relies on three air channels to lift and remove both surface debris and deep down embedded dirt. The vacuum also has a "Boost Mode", which provides extra power for tough messes.
The Air Lift functions equally well on carpet, area rugs, and bare floors. It is equipped with a multi-floor electronic brushroll that instantly switches from carpet to hard floors with the touch of a button. The brushroll has extra soft bristles to ensure that your hard floors aren't scratched up.
There is no need to worry about replacing bags because the Air Lift is bagless. Simply empty the dustbin after cleaning.
Where the Air Lift really excels is in its ability to provide cleaning in every possible space. The removable wand and tools allow for an impressive 8-foot cleaning reach. The vacuum also comes with a 2-in-1 dusting and crevice tool to clean crevices, vents, and furniture surfaces. At 10.5 x 11.2 x 44 inches and 10.7 pounds, it is the heaviest vacuum on our top ten list (albeit still quite light). It does have the very convenient feature of converting from a full-size, upright vacuum to a lift canister for mobile cleaning. While it doesn't have a built-in handheld (you may want to consider the Hoover Powered Hand Tool if you need one and like Hoover), you actually are still able to bring full-power vacuuming with you anywhere.
Included with purchase of the Air Lift are two extended runtime Lithium Life batteries, a Lithium Life charger, a reusable filter, and the previously mentioned 2-in-1 dusting and crevice tool. Hoover provides an impressive 5-year battery and product limited warranty. Of course, you can choose to add an additional warranty above and beyond the one included at the time of purchase.
The Bottom Line
You'll pay a little bit more for this vacuum, but it provides all the quality and features that you'd expect out of a top brand name like Hoover. It is powerful, efficient, and allows for hard-to-reach cleaning.
[/vc_column_text][/vc_column][vc_column width="1/3″][vc_column_text]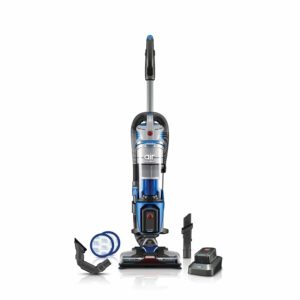 Pros
Time tested quality of the Hoover brand
Lithium Life Battery Technology – 50 minutes of run time per charge
WindTunnel 3 technology for extra strong suction and cleaning efficiency
Multi-floor electronic brushroll
8-foot cleaning reach
Converts to canister vacuum for mobile cleaning
5-year battery and product limited warranty
Cons
No built-in handheld vacuum attachment
One of the heaviest vacuums on our list
Click to Check the Price
[/vc_column_text][vc_separator border_width="2″ el_width="70″][/vc_column][/vc_row] [vc_row][vc_column width="2/3″][vc_column_text]
The Rundown
If you're committed to a tighter budget, but need more vacuum than a stick model can provide, the Eufy HomeVac Lightweight Cordless Upright is a great option. Eufy is a subsidiary of Anker, which is a brand known for its innovative electronics for life on the go. Eufy combines this hi-tech heritage with their heart for all things home, and create products that make the home happier for everyone who lives there. Their products have smart technology and innovative designs; and the HomeVac is no exception!
When designing and developing the HomeVac, Eufy was focused on one main thing: efficiency. Their goal was for their customers to be able to clean their house in just one pass, which would ultimately save them both time and energy (their own and the environment's). We found that they accomplished this goal tremendously well with their powerful Cyclonic System and electric rolling brush. The two work together and result in double the suction power, which allows the user to to clean messes in one pass. Not only will you be able to clean your house more quickly, but the HomeVac's incredible battery lasts longer than any other vacuum on our list. The large 2200 mAh Li-ion battery will run for 50 minutes of vacuuming per charge.
All vacuums help home air quality by reducing the dust and other particles from the environment, which accumulates in carpets and on hard flooring. The HomeVac takes this a step further and actually has double cleaning action—on the surface that you're vacuuming and the surrounding air. The vacuum comes outfitted with a HEPA-style filter, which traps allergens—dust mites, mold spores, and pet dander, and therefore prevents them from being released into the air. And it does so quite effectively with its three-stage system: first air passes through the dust holder, where more of the dust will get trapped; then the pre-filter; and finally the HEPA style filter. And the result? Clean surfaces and clean air. Double action cleaning with minimal effort and less appliances.
Eufy considered other conveniences that their customers would be interested in. This includes compactness for easy storage and minimal weight for easy transfer. At 10.3 x 8.7 x 43 inches, the HomeVac is effectively a dust buster wrapped in a very slim package. It stands upright on its own and slips easily into small closet spaces. Eufy also includes a wall mount and mounting accessories, in case that's how you'd prefer to store your vacuum. And at a featherlight 5.8 pounds, the vacuum can be carried effortlessly around the house or up the stairs—wherever the mess may be. With its maneuverable swivel head, the HomeVac pivots around table legs and slides under furniture effortlessly, without nicking up any of your furniture. Finally, although the unit is very compact in nature, it still comes equipped with a large 0.9L dust holder, which detaches quickly and easily for emptying. That means less emptying for you, and being able to do so without any of the debris falling back on your newly cleaned floor.
As with all their products, Eufy believes in the HomeVac and back it with a 15-month "worry-free" warranty. Should you have any issues during that period, they provide friendly, easy-to-reach support. Depending on where you purchase your new vacuum, you might have the option to purchase an additional warranty that goes above and beyond the one included by Eufy.
The Bottom Line
Perfect for those on a tighter budget but who still want all the power and conveniences of a full-size upright vacuum. It's compact, lightweight, and incredibly efficient—cleaning not only your floors but also filtering your air. The HomeVac offers a great value.
[/vc_column_text][/vc_column][vc_column width="1/3″][vc_column_text]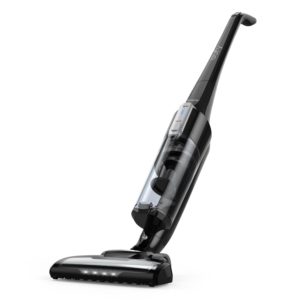 Pros
Double suction power to clean messes in one pass
Large battery that provides 50 minutes of use per charge
HEPA style filter to purify air while vacuuming
Compact and lightweight
Can be stored upright or with included mounting kit
Maneuverable swivel head to easily vacuum around corners and furniture
Large dust holder
Cons
Does not convert to a handheld style
Bagless type may not be preferable for some users
Click to Check the Price
[/vc_column_text][vc_separator border_width="2″ el_width="70″][/vc_column][/vc_row] [vc_row][vc_column width="2/3″][vc_column_text]
The Rundown
Although a relatively newer company—founded in 1978, Dyson has always been on the cutting edge of technology. The company began because James Dyson was frustrated with his own vacuum cleaner's diminishing performance. He was also an engineer who had recently built a cyclone tower for his factory that separated paint from the air using centrifugal force. Determined to utilize the same technology to make vacuum cleaners more efficient, he set to work. After five years and 5,127 prototypes, he had invented the world's first bagless vacuum cleaner.
Since their start, Dyson has been a powerhouse in the vacuum industry (and they're working and spending tirelessly to maintain that reputation). If you're not worried about budget and less concerned about compactness, it's hard to beat the Dyson V8 Absolute.
Perhaps the biggest difference is that the V8 Absolute, as its name suggests, is an absolute powerhouse. Powered by the Dyson V8 motor, this machine has a great amount of suction in a cordless vacuum form factor. This powerful motor is located inside the brush bar and drives stiff nylon bristles deep into carpet pile to remove ground-in dirt and even suck up pet hair. For especially tough jobs, the V8 Absolute offers a very useful "Max Power Mode" with a simple slide switch. This setting provides up to 7 minutes of higher suction, functioning similarly to a shop-vac.
As with all of our top ten cordless vacuums, the V8 Absolute takes away the hassle of having to unwind, plug in, and navigate around a cord. You also get twice as much time per charge than some of the other vacuums in Dyson's lineup. A full charge of the lithium iron batteries (included) offers an amazing 40 minutes of uninterrupted, fade-free suction. That's more than enough time to thoroughly clean most homes.
The V8 Absolute also has the amazing feature of its hygienic dirt ejector. That is a fancy way of saying that you can drive out trapped dust and debris in a single action, without actually ever touching the dirt—and thus keeping the process completely hygienic. The debris bin is larger on the V8 than other cordless vacuums, making vacuum maintenance less frequent.
Our favorite part of the V8 Absolute is the vacuum's whole machine HEPA filtration that captures allergens and actually expels cleaner air than the air you breathe. This means that every time you clean, your output will be pure. Not only are you sucking up dirt and allergens from your carpet and other surfaces, but you are actually cleaning the air while you go. Working in conjunction with the filtration system are 15 radial cyclones, arranged across two tiers. They function in parallel to increase airflow and capture fine dust from wood floors and other hard surfaces. The end result of all of this? An as-close-to-dust-free home as you can possible imagine.
The V8 Absolute still has a rather compact dimensions of 9.9 x 8.9 x 49 inches and just 5.8 pounds. As with all Dyson cord-free vacuums, the V8 Absolute converts to a handheld for quick cleanups, spot cleaning, and cleaning difficult places. This is perfect for cleaning the stairs, sofa, and in the car. Complete with purchase of the vacuum, you also get a convenient docking station for the vacuum itself as well as the other included accessories: combination tool, crevice tool, mini motorized tool, and soft dusting brush. And due to its light weight and low center of gravity, it is very easy to use the V8 to clean not only floors, but also walls and ceilings.
You may want to purchase the very reasonably priced Dyson Articulating Hard Floor Tool if you have strictly hard floor surfaces or want an extra clean feel. This vacuum ensures that every small piece of debris on your wood floors gets sucked up. If you plan to use the vacuum in its handheld version a lot, then it may be helpful to get the Dyson Genuine Handheld Tool Kit, which will increase the functionality of the handheld.
The unit also comes equipped with a soft roller cleaner head that removes fine dust and large debris from hard floors, eliminating the need for the Dyson Articulating Hard Floor Tool.
Dyson backs its vacuum with a limited 2-year warranty, but additional warranties can usually be purchased.
The Bottom Line
The V8 Absolute is a great choice of cordless vacuum for those with a high budget. It's powerful, it's compact, it's versatile, and it's efficient.
[/vc_column_text][/vc_column][vc_column width="1/3″][vc_column_text]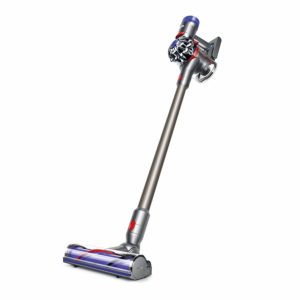 Pros
Dyson V8 motor is a powerful cordless vacuum cleaner
"Max Power Mode" for 7 minutes of extra-powerful suction
40 minutes of fade free suction per battery charge
Whole machine HEPA filtration that captures allergens and expels filtered air
Compact and lightweight
Comes with docking station and four cleaning accessories
Larger dustbin that can be cleaned hygienically with the push of a button
Cons
Higher price point
Power button must be pressed constantly for the vacuum to function
Click to Check the Price
[/vc_column_text][vc_separator border_width="2″ el_width="70″][/vc_column][/vc_row] [vc_row][vc_column width="2/3″][vc_separator border_width="2″ el_width="70″][vc_column_text]
Best Cordless Vacuum Buyer's Guide
Of all the home appliances you may be considering for your home, a vacuum probably seems like the easiest to navigate. And while this might definitely be true, there are still some important things to consider before you purchase, especially since some vacuums cost hundreds of dollars. Below are the things that we found to be important when researching and writing this article. We hope the information will be helpful to you on your way to cleaner floors!
Corded vs. Cordless
You'll notice that all the machines on the top ten list are cordless. For the sake of keeping the review focused, and because cordless vacuums seem to be the technological future for vacuuming, we decided to only include cordless models in our top ten list. The convenience of being cord-free can't be denied!
No unwinding, plugging, replugging in each room, and rewinding the cord. No navigating around a cord when you're trying to clean. There are very few downsides to choosing cordless other than the short battery life.
Battery
Most new models, including all of those on our best cordless vacuums list, use lithium ion batteries that both are powerful and have long run times.
You should consider how long it takes to charge the battery and the run time per charge. We include this information in our reviews.
Charging
One negative of having a cordless vacuum is that you need to charge your battery in between uses. Otherwise, you'll find yourself with a mess and a vacuum that's not functional.
Some vacuum batteries are charged in the vacuum itself with a cord attachment. Others are removable and charged separately. Some require that the whole vacuum be placed on a charging dock.
If you have a preference for how and where the battery is charged, then be sure to look for those details.
Vacuum Type
There are many types of vacuum cleaners. Here are the advantage and disadvantages of each type.
Upright
Upright vacuum cleaners are probably the most well-known. The popularity comes from their power and efficiency. They are generally user-friendly and functional on carpet and bare floors. They also tend to be a bit bulkier, which makes storage a bit of an issue for those living in tighter quarters.
Canister
Canister vacuums are smaller than the traditional upright, but a bit bulkier than stick vacuums (explained below).
Canister vacuums have nearly as much, if not as much, power as uprights while having a more slender frame. The separate canister design attached to a long wand works well on both carpets and floors.
These vacuums are a happy medium between the upright model and the stick model. Unfortunately, they tend to be the most expensive type of vacuum due to their newer technology and multi-functionality.
Stick
Stick vacuums were very aptly named. There design is basically a stick with a handle and a vacuum head. People choose them for the ultra compact design and ability to clean narrow and hard to reach places. However, they are generally much weaker than upright and canister vacuums.
We still found a great deal of sufficiently powerful stick vacuums despite their reputation. They are especially effective on hardwood floors, area rugs, and light carpeting.
Handheld
While not the best option for cleaning your entire house (as it would take hours), handheld vacuums are perfect for small, quick messes or hard-to-reach areas. They're especially valuable for tight areas like your car or behind your couch.
You will find handheld vacuums on the market ranging in design, functionality, and price point.
2-in-1
Who doesn't love a twofer?
Extreme value comes from purchasing a vacuum that functions in more than one way. One of those ways comes in the form of attachments, which we'll get into more below. Another is when the vacuum actually converts from one form to another.
Half of the vacuums featured in our cordless vacuum reviews list are two-in-one. They function as a stick or upright and convert to a handheld or canister vacuum. We highly recommend purchasing a vacuum that offers this benefit!
Attachments
There is an endless list of attachments that might come with various vacuums. Below we include a few of the most popular that you may want with your vacuum purchase.
There may be an option to purchase one or more of these accessories separately. Just be sure that it is compatible with your particular vacuum.
Powered brush
Called different things by different manufacturers (e.g., Bissel's TurboBrush, Shark's Multi-tool), this attachment has an independent motor that powers a smaller brushroll.
This motorized brush head agitates the dirt and allows for a deeper clean. It has a smaller size, which allows it to reach in tighter spots. However, the smaller amount of bristles means it is not a suitable replacement for a normal brush.
Hard Floor tool
This attachment is designed specifically for use on hard, bare floors. It is wide and flat in shape with short bristles that aid in sweeping up dirt and debris.
Wheels make it easy to move along the floor. This attachment can sometimes be found with a small scalloped edge to be used to clean areas around seams. They're great for dry messes on any bare floor: tiles, hardwood, laminate, concrete, linoleum, and so on.
Vacuum brush
This attachment is great on the sofa, drapes, and even carpets. It has a wide design with long, thin bristles. The bristles work to loosen any dirt, dust, or hair that has embedded into fabric.
We love this attachment to dust curtains or to get pet hair off of furniture.
Upholstery brush
The upholstery brush is even better suited for carpets than the vacuum brush. It is equipped with long brittle bristles that work the embedded dirt and debris out of carpet fibers. It is necessary for shampooing surfaces, as it will force the soap and cleaners into the furniture and carpets. The tough bristles will remove dirt, odor, and stains.
Crevice tool
The crevice tool is a hose attachment with a narrowed end that allows it to clean corners, tight areas, and baseboards. This tool works great on spots that a standard vacuum cleaner would miss.
Pet tool
This tool is essential for anyone with pets. You can even groom your dog or cat with this accessory and gather all the hair and fur that would have ended up on your floor, furniture, and clothes.
Bagged vs. Bagless
This is truly a matter of opinion. I have known an equal amount of people with strong opinions towards bagged and towards bagless vacuums. There are pros and cons to each, so consider them and decide which works better for your home and lifestyle.
Bagged-type vacuums tend to hold more dirt and keep it contained. When you replace the bag, the dirt and debris generally stays inside the bag. Less dust is released into the air. Generally, an indicator on the vacuum will tell you when to replace the bag. The downside being that you have to purchase new bags or your full-bagged vacuum will be rendered useless.
Bagless vacuums are generally more economical in that you won't have to purchase any replacement bags. However, they use filters that need to be replaced or cleaned periodically.
These filters may be a positive because they actually filter the air as you vacuum. The main reason that people choose against bagless models is not wanting to deal with the dust and potential mess of emptying full bins. And this may be a real concern if you have asthma or allergies. Fortunately, most newer models have one-button, bottom release canisters that make emptying very hygienic.
Bagless seems to be the way of the future, so all of our cordless vacuums have a bagless design.
Warranty
The minimum warranty you should find with a good vacuum is a 1-year limited warranty. We have seen the warranty go as high as 5 years.
Keep in mind that you can sometimes purchase an additional warranty that goes above and beyond the standard warranty.[/vc_column_text][/vc_column][vc_column width="1/3″][/vc_column][/vc_row]