Giantex Trampoline Review – Combo Bounce
[vc_row][vc_column width="2/3″][vc_column_text]
Last Updated: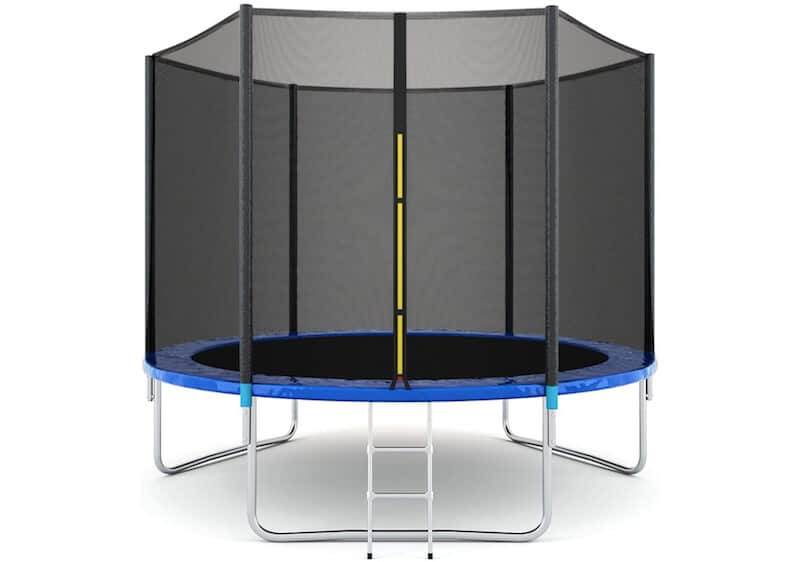 Trampolines
are fast becoming a popular outdoor equipment every household wants to have around. As the lockdown continues in some parts of the country, the need to stay mentally healthy cannot be overemphasized. As you contemplate on which type of trampoline you want to buy, we give you a honest
Giantex Trampoline reviews
. Our review will help you decode whether Giantex Trampoline is the best type for your household. [/vc_column_text]
[/vc_column][vc_column width="1/3″][vc_column_text]
Giantex Combo Bounce Jump Trampoline: Notable Features
Available sizes
You can choose from about 5 size options. The higher the size, the bigger the weight capacity. Regardless of the space in your yard, you should find one Giantex trampoline that fits perfectly. Size options include: 8 ft, 10 ft, 12 ft, 13 ft, 14 ft, 15ft, 16ft.
Stability
Giantex Combo Bounce trampoline comes with U-shaped stands. This makes the equipment sit balanced on the yard. This geometry also reduces instances where pressure from continued use of the equipment leads to breaking the floor surface. Your kids can play with confidence that they won't be tossed awkwardly during play.
Safety
Giantex Combo trampoline packs full safety features. First, it comes with its ladder. Kids can easily climb the ladder to get to the surface of the trampoline. The ladder is made of strong steel to bear heavy weight without issues. Another safety feature is the perimeter net. The safety net wraps round the surface of the trampoline. This net help kids stay safe within the equipment as they bounce around. Once the safety features are in place, you kids can use the equipment with little supervision.
Design
Not all trampoline brands come with safety net. This is what makes Giantex standout as almost all their trampoline models have a safety net. The nets are wrapped around the equipment and are supported by steel poles. The poles are slightly paded to reduce bruising effects. With the enclosure pad fixed to the edge of the frame, jump area seems larger. The springs are also covered with enough foam to ensure more fun and safety.
Durability
One feature that puts Giantex trampoline with the likes of Merax and Skywalker is durability. The mat on the equipment is made of tough and water resistant material. Weight capacity of Giantex Combo Bounce trampoline vary with size. However, the smallest size of Giantex trampoline offers excellent weight capacity of 80kg max. How much more the bigger sized ones.
You can expect expect the equipment to last longer when it is prevented from high temperatures and humidity. Users are encouraged to bounce on the mat barefooted. This will prevent potential damage to the mat as a result of pressure from shoes.
[/vc_column_text][/vc_column][vc_column width="1/3″][vc_column_text]
Pros
Made of strong and durable materials
Kit comes with ladder and safety net
All parts needed for complete assembly are available in the kit
Manual gives easy assembly instructions
Cons
The equipment is slightly costlier than some other brands
Assembling equipment requires two adults to make work faster
The mat is not covered by warranty
Click to Check the Price
[/vc_column_text][vc_separator border_width="2″ el_width="70″][/vc_column][/vc_row]