Last Updated: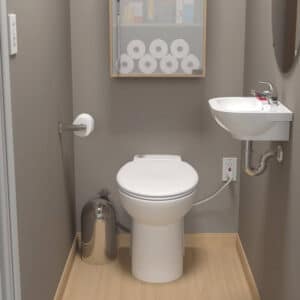 A tankless toilet–one that doesn't rely on gravity? Is that even an option? Yes! In fact, this Saniflo 023 Sanicompact 48 one-piece toilet is perfect for tight to fit spaces, like an odd shaped area. Have a slot under the stairs where you could add a half bath, but it's got a tight fit? This would be
the perfect toilet
to keep in mind, as you don't have a tank to take up added wall space.
Our Saniflo Sanicompact review is going to take a closer look at details you'll want to pay attention to, if you've got your eyes on this convenient, space-saving toilet that offers you a unique utility.