Kraus Kitchen Sink Review: Kraus Single Bowl Undermount Kore Workstation
[vc_row][vc_column width="2/3″][vc_column_text]
Last Updated: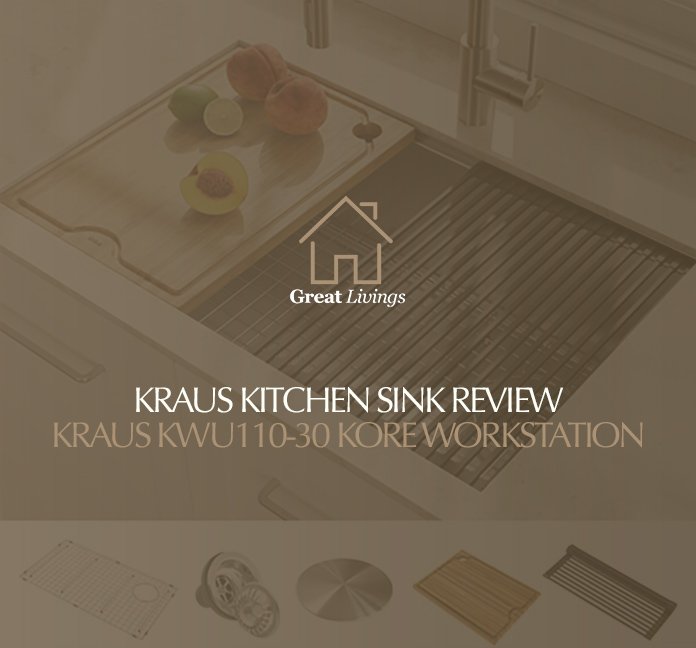 Every home holds the kitchen with great esteem, and accord due attention to its features, wares and overall design. This, you can quickly tell is true since the kitchen is regarded as the undisputable powerhouse of a home.
Besides having your kitchen well-spaced out for easy movement of wares and other materials within it, installing a good kitchen sink workstation where you can do virtually any kitchen chore without moving from pillar to post seems to be another key factor many home owners consider.
Obviously, the mention of a perfect workstation will definitely call your attention to your kitchen sink where you do most washing, cutting, and even the mixing of ingredients for your meal.
So, in this review, we bring to you the Kraus KWU110-30 kore workstation and everything you need to know about it.
Hopefully, this review will guide you in making an informed decision as you choose the Kraus undermount sink as a reliable kitchen workstation.
[/vc_column_text][/vc_column][vc_column width="1/3″][vc_column_text]
Related posts on Kitchen Sinks
[/vc_column_text][vc_separator border_width="2″ el_width="70″][/vc_column][/vc_row] [vc_row][vc_column width="2/3″][vc_column_text]
KRAUS KWU110-30 Kore Workstation Kitchen Sink Review from our experts
The Rundown
Kraus KWU110-30 kore workstation is a high quality kitchen sink that is carefully designed to give your kitchen a professional look with a lifetime guaranty.
With the kraus undermount single sink workstation, you are sure of a kitchen workbench that gives you true convenience and flexibility to carry out major kitchen chores right from one spot.
Contained in this all-encompassing handy kitchen workstation are high quality kitchen accessories which are also a part of the game plan to give you real comfort with no hassles every time you hit the kitchen.
Top on the list of premium accessories in the Kraus kore workstation is a well-polished solid bamboo cutting board to give you a solid and a well-leveled chopping, slicing and even dicing surface right over your kitchen sink.
Being a product of a natural non-porous bamboo with high-class finishing, you are assured of a chopping board that is not only resistant to cracks, but also resistant to germs and even bacteria penetration.
Next on the list with a top-notch grade is the roll-up dish drying rack which is designed with premium stainless steel to give your kitchen a sparkling and glittering ambience from within.
The roll-up dish drying rack also provide adequate containment space to accommodate and drip-dry a sizeable number of plates and other kitchen ware after wash. With this, you can tell that your kitchen cabinet will be free from wet wares that may get it stinking.
The drain assembly is protected with the Cappro™ drain cover, which is another heavy-duty stainless steel cover that gives you the opportunity to prevent garbage and other waste from going down into your drain.
Once covered properly, the Cappro™ drain cover can also make your kraus undermount sink to serve as a big washing bowl.
More to scoop is the premium stainless steel grid and strainer which helps to protect the bottom of your kraus undermount sink from scratching as well as elevating dishes for easy drainage of water from the sink.
Features at a Glance
The kraus kitchen sink single bowl undermount stainless steel workstation comes in a complete set with the following parts:

Kitchen sink
5-piece chef's kit including:

Roll-up dish drying rack
Bamboo cutting board
Dish grid
Strainer and Drain cover

Size: 30 Inches
Style: Undermount Workstation
Final Verdict
From the design as well as the premium accessories that accompanies the Kraus KWU 110-30 kore workstation, it is evident that this parcel of kraus undermount kitchen sink was purposely designed for flexibility, comfort, and absolute comfort in the kitchen.
More so, the manufacture's decision not to compromise in the choice of materials used in designing the kraus single bowl sink as well as the lifetime guaranty on this exceptional kitchen workstation gives us the confidence to warmly recommend the kraus undermount kitchen sink for your home.
[/vc_column_text][/vc_column][vc_column width="1/3″][vc_column_text]
Pros
Comes with dish drying rack
Grid and strainer protects the bottom of sink from scratches
Cons
Click to Check the Price
[/vc_column_text][vc_separator border_width="2″ el_width="70″][/vc_column][/vc_row] [vc_row][vc_column width="2/3″][/vc_column][vc_column width="1/3″][/vc_column][/vc_row] [vc_row][vc_column width="2/3″][vc_column_text]
[/vc_column_text][/vc_column][vc_column width="1/3″][/vc_column][/vc_row]